Biddle Becomes Temporary Member of the D.C. Council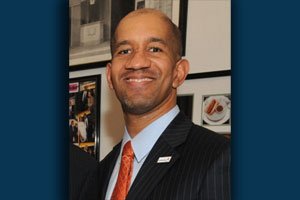 The temporary at-large council member position has been filled by a member of the District of Columbia's board of education who has strong ties to the chairman of the D.C. Council.

On Thu., Jan. 6, the D.C. Democratic State Committee selected D.C. Board of Education member Sekou Biddle of Ward 4 in Northwest to take the at-large seat that was vacated by Kwame Brown, who was elected as the chairman of the D.C. Council on Tue., Nov. 2, 2010. Biddle won the contest on the third ballot, defeating former D.C. Council member Vincent Orange of Ward 5, 40-31.

"I want to serve you," Biddle, 39, said. "This was a long, hard fought journey and I want to thank Mr. Orange for running a pro-active campaign."

Biddle said that his selection was an extension of the work that he is doing in education. He works as the executive director of Jumpstart for Young Children in Northwest, a program that prepares youngsters for elementary school.

"I'm looking forward to speaking with residents and earning their vote in the election this spring," he said.

There will be a special election for the at-large seat on Tue., April 26. The election is non-partisan so the candidate who gets the most votes will be the permanent council member.

Orange, as well as Ward One activist Stanley Mayes, who got eight votes on the first ballot, will run in the special election along with a host of other candidates.
The vote took place at the headquarters of the Democratic National Committee in Southeast and was attended by D.C. state committee members and approximately 200 interested observers who included Brown, D.C. Council members Harry Thomas (D-Ward 5), Tommy Wells (D-Ward 6) and Marion Barry (D-Ward 8).

Thomas and Barry publicly supported Biddle earlier that week. Barry, along with D.C. Council members Mary Cheh (D-Ward 3), Muriel Bowser (D-Ward 4) and Yvette Alexander (D-Ward 7) were present at a fundraiser for Biddle at Ben's Chili Bowl in Northwest on Tue., Jan. 4.

It has been noted that Brown pressed hard for Biddle to win, pulling D.C. state committee members aside and speaking to them privately. Until a few weeks ago, it was widely assumed by political observers that Orange, 53, had the votes on the D.C. state committee to be selected to the position because he is the District of Columbia's national committee member to the Democratic National Committee and his prior service on the Council.

However, Brown supported Biddle in part because Orange, who ran against Brown for the Democratic Party nomination for Chairman of the Council in the fall, disclosed information about Brown's personal finances. The story was first reported in the Washington Post. Orange said that he meant no harm to Brown.
"I want to apologize to Chairman Brown or anyone I may have offended," Orange said before the balloting began.


Brown was pleased with the selection of Biddle.

"I am proud of the participation that took place tonight," Brown said. "We will continue to fight for Democratic values and trying to put people back to work."
Barry also praised the D.C. state committee's selection process.

"This is democracy at its finest," Barry, 74, said. "Now we Democrats can come back together and fight for statehood."

Ward 6 political activist Jeffrey Richardson said that many D.C. state committee members wanted a new face on the D.C. Council.
"We wanted some new blood," Richardson, 34, said. "We wanted a strong progressive on the Council and Sekou was the one. His selection will open doors for others in politics and it is time for other people to lead."

Orange, who some thought looked upset in his defeat, said that he will press on to do the things that he thinks are right.

"This is politics at its finest," he said. "I am going to continue to work hard and keep my head up. You have not seen the last of Vincent Orange."

Biddle was sworn in on Fri., Jan. 7 by Brown at the John H. Wilson Building in Northwest. Biddle's office space will be in Room 410, according to the Office of the Secretary of the Council but he had not been assigned to any committees, as of Informer press time.

Brown said that it was a pleasure to swear-in Biddle.

"I have had the honor for many years to call Mr. Biddle my friend, and now I am proud to call him my colleague," the chairman said.

"Mr. Biddle will bring a fresh perspective to our legislative body and his presence is even more welcomed as the Council work to close a multi-million dollar gap and to reduce record unemployment levels."