Local Nonprofit Expands Services in Shaw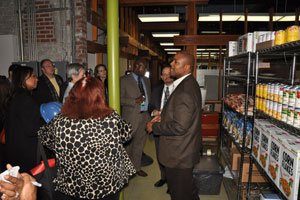 A ribbon-cutting ceremony, held on Fri., Dec. 7th in Northwest, was more than just a celebration for a new healthcare clinic; the event also proved to be a benchmark for a local nonprofit, highlighting more than 35 years of community outreach.

Bread for the City opened its doors for hundreds of staff, volunteers, clients, and District officials--all of whom came to get a glimpse of its new health clinic and remodeled multi-functional facility located at 1525 7th Street in Northwest.
Many who attended the event took advantage of free food, live music, and good company, as well as one of the many tours offered throughout the afternoon and evening.

Bread for the City, a nonprofit operating since 1974, has grown significantly since its humble beginning, and is now offering a wide range of services to the District's less fortunate: Food, health care, legal assistance, and general advocacy are now available under one roof.
Hollie Holston, a volunteer who has been working in the nonprofit's food pantry for the past three months, said contributing at Bread for the City has been a positive, uplifting experience.

"The volunteers and workers here are like family. Once you get to know everyone, it's really fun," said the 16-year-old senior, who attends Luke C. Moore Academy Senior High School in Northeast.

Holston said she originally came to Bread for the City to fulfill 100 hours of community service mandated by D.C. Public Schools as a graduation requirement, but said now volunteering has become much more than that.

"People come here, and they are really in need of food. You can see it on their face. When they leave, they have a big smile--and that just warms your heart."
The new health clinic, which is connected to an existing building already in use by the nonprofit, is the result of Bread for the City's own fund raising, in addition to a $5 million grant allocated through The District of Columbia Primary Care Association (DCPCA).

With approximately $8.45 million in total funding, Bread for the City was able to renovate its existing facility and also expand--building an adjacent, fully-equipped medical clinic, which includes vision, dental, and general examination rooms, as well as additional office and kitchen space.

Sharon Baskerville, Chief Executive Officer of DCPCA, said Bread for the City was the ideal health service provider to receive the $5 million grant.
"Bread for the City is one of our historic safety net providers. Long before there was health reform, long before there was very good coverage, most people didn't have access to health care."

"Places like Bread for the City were little nonprofits started by folks all over the city. They were constantly raising money. People's health care depended on their ability to raise money."

Baskerville said things have changed quite a bit since those early days, but said Bread for the City's hard work and commitment to service has not been forgotten.

"When reform happened, we wanted to make sure that historic providers, who had taken care of people when there was no money, when there was no coverage, when there were no resources, got what they needed."

"We wanted to preserve that philosophy and mission of health care. It's very comprehensive. It's very compassionate. It takes care of people regardless of their resources," she said.

Baskerville admitted this grant was not just a freebee for Bread for the City, and she praised the nonprofit for its hard work.

"They applied for the funding. We could only provide 75 percent [of total costs]. They had to be able to leverage the rest. They had the passion and the will to do it. It took a lot to make this happen," she said.

The new clinic, alone, is expected to significantly increase the nonprofit's capabilities.
George A. Jones, Bread for the City executive director and Congresswoman Eleanor Holmes Norton, (center) along with Bread for the city staff, and government leaders wait for the ribbon-cutting ceremony to begin on Fri., Jan. 7 at the new headquarters in Northwest. Photo by Roy Lewis

Bread for the City expects to more than double the total number of patients it sees, as well as triple the amount of visits it conducts annually.
Dorothy Kemp, a 64-year-old, Ward 1 resident and member of Bread for the City's Advisory Board, said she is ecstatic to see the nonprofit grow into what it is today.

"I've been coming here for 20 years. I'm a retired social worker, and I didn't have health benefits. When I came here, the service was as good as, or better than, private health care. It just evolved."

Kemp, a vegan, said she is a big fan of the green roof that will eventually cap Bread for the City's new facility.

"I'm looking forward to the garden on top, because it's allowing people to eat healthy. I've gone to Whole Foods, where I've actually gone through and identified what foods [vegans] can eat, which is of interest to Bread for the City."

According to Bread for the City newsletter, "The 3,500 square foot green roof will feature between 40 and 60 raised beds growing a seasonal variety of fruits and vegetables. A team of volunteers and green roof specialists will tend to the crops ensuring a healthy yield for Bread for the City's constituents."

Carolina McKinney, a lifelong resident of the District, said she has been coming to Bread for the City long before it was at its current location.

"I come for the food and social services. I've been coming here before they started this building over here. When they first started, they were in an apartment building. They would have food in the basement."

"Years later they came down to this building. I come down here for exams and flu shots. I'm happy here," said the 65-year-old.

People from all walks of life participated to make last Friday's celebration a success.

Christylez Bacon, a 24-year-old progressive hip-hop musician, kept the crowd moving with his unique style of music, which he describes as a blend of contemporary hip-hip mixed with traditional styles such as jazz and samba.

"I'm happy to perform here at this event, because it's D.C. history. It's an honor to be here. I could be doing some kind of club performance, but the people who
organized this feel that my music is suitable and a good way to bring people into this venue and space--that's great."

"I'm glad that hip-hop can be used in this environment. It really means a lot to me."

Bacon said he too may benefit from the services offered at Bread for the City's new health clinic.

"I heard about the new health center. I don't have health insurance, so I might be up in here too," he said and then laughed.

George Jones, Executive Director of Bread for the City, said he is honored to be part of the evolution of Bread for the City, but said it is time to get down to business.

"Now we can roll up our sleeves and get into the real work. We have been in this space since the first of December, but in a lot of ways, we have been working out the kinks. Over the coming months, and of course years, there are going to be thousands more that will benefit from these programs. We hope we can help people with overall wellness."

Jones said after being in health care for nearly 30 years, he still loves the work.
"I am really one of those people who are truly happy to come to work."