Let Me Down Easy at Arena Stage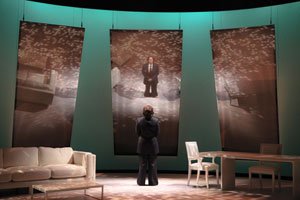 "Let Me Down Easy" What does that mean to you?

Anna Deavere Smith portrays 18 personalities in this powerful and thought-provoking, one-woman show. Each personality -- not character -- answers the question what does "Let Me Down Easy Mean."

Although the subject matter is heavy, the approach is refreshing.

Smith interviewed and filmed several hundred individuals. Her subjects are lively, some are dying, others are mature -- experienced with handling delicate situations and aware of the things that shaped their lives. They're prepared to deal with the challenges that lie before them. These are real stories, answers and commentary verbatim from real people. Former Texas Gov. Ann Richards and ABC News Movie Critic Joel Seigel are 'channeled' for this performance and audiences are made to feel as if each respondent is in the theatre having this conversation with them.

The stage has two props, a white couch and a white dining room table that seats eight, along with five tall panels that surround the stage. The stage starts as a blank canvas, used to project the shyer, frail personalities, awaiting its artist brush -- Smith. The colors, a palette provided by each of the personalities introduced within one hour and 40 minutes. Smith's powerful, flattering, courageous, sensitive, and daring stage documentary of testimonials is a treat for the thinking theatergoer. She could best be described as a social commentator and stand-up philosopher who forces you through her own insight, to look at life and its ever changing, challenging personality with concern, and a comedian's cynical eye.

The House Darkens
Projected directly above the stage is the following: "The following portraits are based on verbatim excerpts from interviews conducted by Anna Deavere Smith." With each portrait presented the names are projected above the stage.

Running order of personalities include: James H. Cone, author and professor, Union Theological Seminary, New York City "Let Me down Easy," Elizabeth Streb, Choreographer, STREB Extreme Action Company "Fire Dance," and Lance Armstrong, Tour de France victor.

The performance takes viewers on a walk through the lives of each personality tackling the tough question as it relates to the human condition. Smith is remarkable in character(s) and makes you forget that she's on stage and not the person(s) she's portraying. You laugh at the mannerisms of cyclist Lance Armstrong, yearn to drink a beer with Brent Williams, a bull rider, long to be photographed with model Lauren Hutton as the flashes go off during her interview and mock photo session and you're brought to tears with others.

The last two personalities include Trudy Howell, Director, Chance Orphanage, Johannesburg, South Africa and Matthieu Ricard a Buddhist monk. Howell watched and cared for children born to parents with AIDS, and they too are dying. These were children born sick and some unaware of their fate. How do you let them down easily, knowing you can't leave them in the dark about their illness? Mattueu Ricard, the Buddhist monk says that when one of them dies you take their cup. Smith does this under a spotlight holding a teacup in her right hand with her left hand palm face up, and turns it over. The tea pours through the fingers of her left hand. "Finish," he says.
Anna Deavere Smith takes the acting craft to new heights in her one-woman Arena Stage performance Let Me Down Easy. The play runs through Sat., Feb. 13. Courtesy Photo

The Spotlight Fades to Black
"Let Me Down Easy" opened on Fri., Dec. 31 2010 and runs through Sat., Feb. 13, in the Kreeger Theater at Arena Stage in Southwest. The one-woman multi-personality production was conceived, written and performed by Smith and directed by Leonard Foglia. The production is an examination of the resilience of the human spirit taken from stories though personal conversations conducted with more than 300 people who live on three continents.

By the end of the performance, the stage, which begins as a blank canvas is littered with remnants of each personality. Each individual discards an item, whether it's a striped jacket worn by James H. Cone, boxing gloves and shoes left by Michael Bentt, who talks about a fight with then-Heavy Weight Champion Tommy Morrison, or a plate of food left by Former Gov. Anne Richards who says "I'm not going to buy into a sickness life" before taking a bite and leaving with a half eaten piece of bread on the dining room table.

There's a cane left by Lorrain Coleman, or a hospital gown left on a couch by Seigel, who is aware of his own mortality. The TV film critic lies on the couch while staring at the ceiling with his image being projected on a panel behind the stage. He says, "when I think of Let Me Down Easy, I see hands lifting a coffin and gently settling down into the earth," that tells the story of the constancy of the human condition. "We wear, we consume, we keep, we discard and we continue to live."

The play moves quickly because there's no intermission, which allows the audience to stay engaged. Each personality comes across as being both charming and human. The audience witnesses a collection of personalities who share their thoughts on one provocative question.

Let Me Down Easy is a thought-provoking work. The answers provided by each personality are insightful and audiences will see that they share their feelings and concerns about death and dying, life and living.