Public House at National Harbor is a Plus!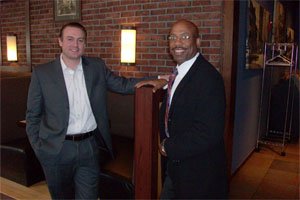 There are a number of restaurant choices at the National Harbor complex, but the Public House definitely stands out. "Comfortable food" is what Jonathan Ball says his staff serves up at the Public House in National Harbor.

"If you chose to dine with us you'll find an establishment based on simple old-fashioned American hospitality and principles" Ball says.

Public House opened at National Harbor in May 2009. The restaurant offer continental American cuisine in a local pub atmosphere to D.C., Maryland and Virginia residents. Located at 199 Fleet Street, Oxon Hill, Md., Ball says the National Harbor establishment is open seven days, "to create food from the very best quality products available, serve it fresh and serve plenty of it."

The term "comfort food" can be defined as food that brings some form or measure of comfort, sense of well-being, or satisfaction.

Ball, the restaurant's general manager described the Public House as a "fun place."

"Public House's mission is to provide a consistent and quality product, while at the same time, a sophisticated and fun atmosphere to our guests," he says.
"We are your neighborhood restaurant and bar with a nightlife scene. We believe that our guests should feel at home when they join us."

Ball said that Jean Pierre-Louis "is my right-hand man."

He's Public House's goodwill ambassador.

"Our goal is simple: To provide a great experience with consistency and quality so our guests will return again and again. Whether it is lunch, happy hour, dinner or a late night party that you seek, Public House is a venue that can meet your needs," Pierre-Louis says.

There is a private dining room which can be used for cocktail parties as well as for sit down dinners. With multiple big screen plasma televisions you can be sure that you will have a view to watch the big game! Public House's late night atmosphere ensures that guests will enjoy themselves.

"I salute the people at Public House for their work and involvement in the community," says Standley Brady, program director for The S.B. Step Ahead Program, Inc. (SAP). Brady's Prince George's County-based literacy program works with youth from nine schools in the County's school system. Public House has supported the SAP program through dining opportunities for deserving youth and it also provides a meeting space for their gatherings.

Overall, Public House is a cool place with a friendly atmosphere and a nice place to go for an after work drink, or for lunch, or dinner. At the suggestion of my dining companion, I tried the Seared Atlantic Cod dish for $24.00. It's served with Cilantro Jasmine Rice, Baby Bok Choy and Gingered Plum Sauce. The service was fast and the waiter was knowledgeable about the offerings.

You can get the Public House Burger for $12.00; Maryland Crab cakes that includes two Jumbo Lump Crab Cakes and Green Bean Almondine for $29.00; and there is a New York Strip for $30.00; for lunch or dinner there is a Half Pound Angus Burger for $12.

Cuisine: Upscale contemporary American
Dining Style: Elegant casual
Hours of Operation: Mon-Thu., 11:00 a.m. - 2 a.m.; Fri-Sat 11:00 a.m. - 3 a.m.; Sun 10 a.m. - 2 a.m.
Payment Types: All major credit cards
Pricing Information: $7 - $23

Atmosphere: Restaurant with an upscale/lively bar and lounge area - 12 television sets with 4 sports channels streaming
Attire: Casual yet neat
Entertainment: DJ, Occasional Acoustic Music
Parking: Street Parking; Garage Parking
Public Transit: Green Line to Branch Avenue and NH1 Bus to National Harbor complex
Groups: Private party space available
Email: info@publichouseusa.com

Happy Hour: Mon.-Fri. 3 p.m. -- 6 p.m. at the Bar - $3 Yuengling & Miller Lite Draft - $5 Select Appetizers - $10 Beer and a Burger
Wine Down Wednesday - Every Wednesday from 7 p.m. - 12 a.m. - 1/2 priced bottles of select wines - $30 Steak, Cake and a Cookie (Flat Iron Steak, Crab Cake and signature Cookie Dough Smash)

Sunday Brunch - 10 a.m. - 1 p.m. - Country Breakfast $14 - Make your Own Bloody Mary from 20 plus different mix options - Egg stuffed French Toast with maple syrup and home fries and other offerings.