Waiting for "Superman"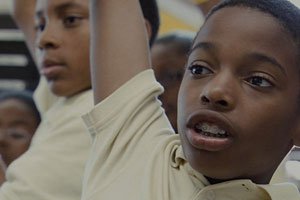 Panelists Discuss State of Education

An update: District of Columbia students no longer hold the title for the worst reading scores in the country; recently, they passed the torch to Detroit, which is now the only city in the nation to rank lower on a national reading test, said Cate Swinburn, president of the D.C. Public Education Fund.
Swinburn was one of three panelists who spoke following a Tue., Jan. 11th screening of Waiting for "Superman", a 2010 documentary about the failing state of America's education system.

The screening, held at Regal Gallery Place Stadium 14 in Northwest, was well attended by teachers, education experts, and those who came just to get a glimpse of the highly publicized film.

Despite a light snowfall that blanketed District streets leading up to the 6:30 p.m. show time, the theater was nearly filled to capacity.

Waiting for "Superman", a riveting documentary that follows the lives of five young students struggling to get into one of our nation's most sought after charter schools, shocks viewers with its startling statistics, but also warms them with many of its heartfelt moments.
Ultimately, the film leaves its audience wondering what they can do to help.

"It definitely makes me think about myself as a teacher, said Sara Ianelli a 24-year-old special education teacher, who attended the event. "I thought, overall, the movie was pretty accurate."

Geoffrey Canada listens to students discuss their dream careers,while acknowledging that many American schools are little more than "drop-out factories" and "academic sinkholes". Courtesy Photo
The film, directed by Davis Guggenheim (and winner of the Audience Award for best documentary at the 2010 Sundance Film Festival), expresses one of many philosophical positions taken on the American education system and its deficiencies.

Although praised by many, the film has also drawn criticism for its overzealous advocacy of charter schools, its assumed support of former DCPS Chancellor Michelle Rhee, and also for its critical portrayal of national teachers' unions in general.

Ianelli, a 3rd through 5th grade teacher at Wheatley Education Campus in Northeast, said although she enjoyed the film and thought it addressed many of the salient issues affecting education, there were a few topics that could have received more attention.

"One thing that I wish was addressed was special education; it wasn't addressed at all. A lot of my students have behavior problems and are emotionally disturbed, and so, they would get kicked out of a charter school."

Charter schools vary, but they usually have more control over their classrooms than traditional public schools. Most limit their enrollment and hold higher standards for their staff and students. As a result, many charter schools have been awarded for their excellence in teaching and for student achievement.
Sarah Campbell, one of Tuesday's panelists and Chief Academic Officer of KIPP DC, a network of award-winning charter schools in the District, said two things really make a difference at KIPP schools.

"I think why KIPP kids are successful is, one, more time. We're in school longer; our school days go from 8 a.m. to 5 p.m. We have Saturday school, summer school, and more time matters," she said. "The second reason is our ability to hire great talent. We have amazing teachers. Last year, at KIPP DC, we had 3,000 applicants for 80 spots for teachers alone. So, we're able to attract great people, reward great people, and help them develop to be even better."
Despite skepticism from critics regarding the overall viewpoint of the movie, including its support of charter schools, Waiting for "Superman" brings up a plethora of valid points, providing a unique lens into the education system's shortcomings.

"For generations, experts tended to blame failing schools on failing neighborhoods. But reformers have begun to believe the opposite--that the problems of failing neighborhoods might be blamed on failing schools," said the film's narrator.

Not only does the film attempt to debunk long-standing stereotypes about the educational system as a whole, it also speaks to specific problems such as public school financing.

In the past, many reformers, politicians, educators, and parents were under the impression that, if only more money flowed into the education system, students' education would improve. But, the film's narrator suggests otherwise. Money is only one of the issues affecting the quality of education, he says.

"Since 1971, educational spending in the U.S. has grown from $4,300 to more than $9,000 per student and that's adjusted for inflation. So, we have doubled what we have spent on each child, but double the money is worth it if we're producing better results--unfortunately we're not. Since 1971, reading scores have flatlined, and math is no better."

Waiting for "Superman" pokes fun at past attempts to reform the education system, including the No Child Left Behind Act of 2001, which claims that every child in the U.S. should test on grade level in reading and math by 2014. The narrator suggests that children are not even close to the 100 percent proficiency rate that was promised by politicians.

"In Alabama only 18% of 8th graders are proficient in math. In next door Mississippi, it's only 14%. And, it's not just southern states: New Jersey 40%; Connecticut 35%, New York 30%, Arizona 26%. And, in California, just 24% of 8th graders are proficient in Math. When 8th graders were tested in reading most scored between 20 and 35 percent of grade level. The worst scores for reading are in Washington D.C. our nation's capital," he said.

Although the film seems to blast DCPS, stating that "It's the worst possible example of public schooling in the United States," it also exposes the deficiencies of several other school systems across the nation.

Waiting for "Superman" focuses special attention on high schools that have been labeled "dropout factories" (high schools where the class size shrinks 40 percent or more by senior year), a phrase coined by Dr. Robert Balfanz, an Associate Research Scientist at Johns Hopkins University in Baltimore.

One of the most flagrant examples of a dropout factory exposed in the film is Locke High School in Los Angeles. "Between 9th and 10th grade at this school, they go from 1,200 freshmen to 300 to 400 sophomores. So, we lose 800 kids between 9th and 10th grade," said Steve Barr, an education reformer at Locke, interviewed in the film.

Critics of the educational system have long drawn parallels between education level and crime rates. Waiting for "Superman" has its own take on this age-old controversy, arguing that money being pumped into correctional systems could be better spent on education.

"Sixty-eight percent of inmates in Pennsylvania are high school dropouts. The state spent $33,000 a year on each prisoner, which makes the total cost of the average prison term $132,000. The average private school costs $8,300 a year. So, for the same amount, we could have sent a prison inmate to private school from kindergarten to 12th grade and still had over $24,000 left for college."

Washington D.C. has been at the low-end of student achievement for some time, but Swinburn said things are starting to shift in a positive direction.

"One thing that I think is remarkably exciting and also incredibly humbling is that Washington D.C. Public Schools used to be the lowest performing urban school district in the country as of just four years ago, according to the national assessment of educational progress. In the most recent round of the national assessment of educational progress, D.C. made gains."

"D.C. actually made the greatest gains of any urban school district in the country. I think we can all be excited. D.C. is beating Detroit. But, D.C. is only beating Detroit," Swinburn said and then laughed. "So, we have a long way to go. That said, DCPS has seen double digit gains over the last three plus years."

"They have seen particularly strong growth at the high schools--and there are particular schools that are some really shining stars. So, there are places where children can feel like they're in the temple of learning that a school should be."