City-wide Growth, Diversity Reflect Gray's Most Recent Picks
1/26/2011, 4:42 p.m.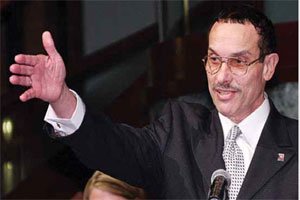 The mayor of the District of Columbia recently selected members for his new team that show his administration's determination to expand economic development east of the Anacostia River and bring a new and younger perspective to the concerns of one of the city's most potent political constituencies.
D.C. Mayor Vincent Gray announced three new appointments to his city management staff on Fri., Jan. 21 at the John A. Wilson Building in Northwest. The new District government leaders include Victor Hoskins as the deputy mayor for Planning and Economic Development; Jeffrey Richardson as the director of the Office of Gay, Lesbian, Bisexual and Transgender Affairs and Phillip Lattimore III as director of the Office of Risk Management.

"One of my immediate priorities is to dramatically reshape the mission and structure of the Deputy Mayor for Planning and Economic Development and Victor Hoskins will lead this critical effort," Gray, 68, said. "There has not been enough focus on job creation and business development in this city and that will change in the Gray administration."

Hoskins, 53, has held a number of key positions over the past 25 years. He served as Maryland's Secretary of the Department of Housing and Community Development, Assistant Secretary of the Maryland Department of Business and Economic Development, and Fannie Mae's Lead Director of Community Development in the Mid-Atlantic Markets. Since 2009, Hoskins has served as vice president of Quadel Consulting, a Washington-based organization that creates and implements affordable housing initiatives across the country.

The development of downtown Washington was believed to be the priority of the former administration of D.C. Mayor Adrian Fenty. Fenty's selection to the post, Valerie Santos, spearheaded a number of projects throughout the city, rebuilding libraries and recreation centers, but seemed to do little to push economic growth in the eastern part of the District.

Gray said that Hoskins is aware of his challenges east of the Anacostia River.

"Hoskins understands that economic development in Wards 7 and 8 are top priorities," he said. "The Department of Homeland Security is important to the citizens of Ward 8. I spoke with Homeland Security Secretary Janet Napolitano last week and she asked me what will moving the department over to Ward 8 do for the community."

The mayor said that the U.S. Department of Homeland Security, which will be located on the western part of St. Elizabeths Hospital, will generate 14,000 jobs on that site along with 22,000 construction jobs.

Gray said that long overdue projects east of the Anacostia River will be addressed. For example, he cited the Skyland Shopping Center located at Alabama Avenue and Naylor Road in Southeast.

"Skyland needs to be re-developed," he said. "We will make that a poster center for re-development."

Gray said that the Penn Branch Center, located off of Pennsylvania and Branch Avenues in Southeast, will be "substantially re-done."
He said that those projects' completion will be good for the District.

"If you lift up the eastern end, you lift up the entire city," he said.

Gray's selection of Richardson was a nod to an important constituency that supported him during his campaign for mayor. Richardson, 34, will provide outreach and constituent services to the GLBT communities.

"The District of Columbia has one of the largest and most diverse GLBT communities in the nation," Gray said.

"And in the spirit of One City, Mr. Richardson will lead collaborative efforts with these constituents, the community-at-large and the government."
Richardson has served as president of the powerful Gertrude Stein Democratic Club, an organization whose endorsement is coveted by candidates for elected office. He is presently employed as the director of national programs for The Center for Progressive Leadership in Northwest.

Richardson was previously employed as a program officer with the D.C. Children and Youth Investment Trust Corporation, where he managed a grant-making portfolio of a half-million dollars in funding for anti-truancy, drop-out prevention and family engagement initiatives.

One of Richardson's challenges will be to connect with the city's strong Black church community. While many Black churches are progressive on issues regarding civil and human rights, there is a problem when it comes to such issues as same-sex marriage.

Richardson said that he knows what he will face in his new job.

"We will continue to reach out to not only the Black church but to the faith community," Richardson, a resident of Northeast, said.

"We will have educational outreach across the city during this administration and will work to build those relationships."

Gray said that Richardson has been given charge "to continue to do what he has done."

Lattimore, a resident of Northeast, will oversee the city's workers' compensation and tort liability programs, as well as other insurance related matters. He holds both his undergraduate and law degrees from the American University in Northwest and has worked with the D.C. Office of the Attorney General since 2006.
Prior to joining the District government, Lattimore was a senior associate general counsel at Howard University and its hospital in Northwest.

Gray said that he was proud of his new team leaders.

"These outstanding nominees should be given a hand for their willingness to competently serve the residents of the District of Columbia and to work with me to build 'One City -- Our City.'"