TV ONE to Create Special Event Devoted to the Pop Culture of the 70s, '80s and '90s
1/28/2011, 6:15 p.m.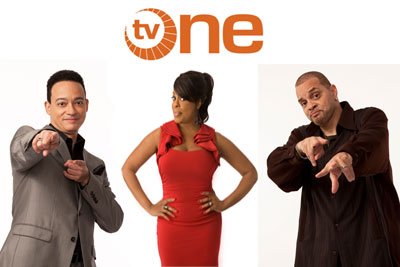 The fourth week of Way Black When: Primetime, Monday, Feb. 21 - Friday, Feb. 25, will offer a "Best Of" week that will feature the best interviews, comedy sketches and performances of the prior three weeks, plus original, unseen material, with the Best of the '70s airing on Monday, Feb. 21; the Best of the '80s airing on Tuesday, Feb. 22; the Best of the '90s airing on Wednesday, Feb. 23; plus an all-stand-up comedy show on Thursday, Feb. 24 and an all-musical performance show on Friday, Feb. 25.

Each weeknight at 11 PM, TV One will also pair Way Black When with decade-specific movies, including such films from the '70s as Cooley High and Cotton Comes to Harlem, from the '80s as Harlem Nights and from the '90s as Juice.

"Last year during Our History Month we introduced the concept of Way Black When, a celebration of recent popular black culture, with vignettes that really resonated with our audience," said TV One Senior Vice President of Original Programming Toni Judkins. "In 2011, we wanted to build on that concept and provide a full-fledged programming experience that will allow us to bring together some of our biggest stars and to celebrate, more fully, the many poignant, entertaining and groundbreaking events and moments in black culture that took place during the '70s, '80s and '90s."

Way Black When is produced by Kusza Productions and Rush Hour Productions. Executive producers are Michael D. Bohusz, of Kusza Productions, and Larry Kaster of Rush Hour Productions.

About TV ONE
Launched in January 2004, TV One (www.tvoneonline.com) serves nearly 51 million households, offering a broad range of real-life and entertainment-focused original programming, classic series, movies, and music designed to entertain, inform and inspire a diverse audience of adult African American viewers. In December 2008, the company launched TV One High Def, which now serves more than 5.5 million households. TV One's investors include Radio One [NASDAQ: ROIA and ROIAK; www.radio-one.com], the largest radio company that primarily targets African American and urban listeners; Comcast Corporation [NASDAQ: CMCSA and CMCSK; www.comcast.com], the leading cable television company in the country; The DirecTV Group; Constellation Ventures; Syndicated Communications; and Opportunity Capital Partners.