Bowser is an Obscurity to Some Ward 4 Residents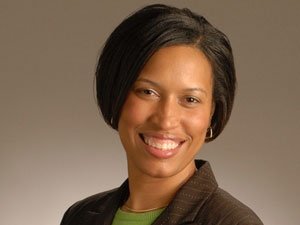 A member of the D.C. Council who represents a ward located in upper Northwest is not well-known to many of her constituents and their opinions about her are largely ambiguous.
D.C. Council Member Muriel Bowser (D-Ward 4) is set to run for re-election in 2012. However, it seems that Bowser, 38, has not made an imprint on some of the residents she serves.
"To be honest with you, I don't know much about her," Michael McCollum, of Petworth, said. "I can't say that she is good and I can't say that she is bad. I know she represents me on the D.C. Council but I just don't know anything about her."
McCollum, 38, said that he has lived in Ward 4 most of his life and confesses that he does not follow D.C. politics closely. Nevertheless, he said that he would like to get to know her.
"I would like to see her more often," he said. "She should come into the neighborhood and meet people. Frankly, I just don't see her enough."
Bowser was elected to the D.C. Council in a special election held in May 2007 after Adrian Fenty, who represented the ward on the council since 2001, was elected the District's mayor in 2006. Fenty strongly backed Bowser in the special election, and she was elected to a full term in 2008.
On the D.C. Council, Bowser is viewed as an intelligent, hard-working lawmaker that has no real enemies. While some of her colleagues are outspoken on the council dais, she is careful in what she says and does.
Steve Johnson, of Takoma, said that he is not happy with Bowser's reserved manner on the D.C. Council.
"To me, it seems that she is not doing anything," Johnson, 33, said. "She's just there. I don't think that she is doing anything special and has not made any special effort to do anything."
Johnson said that Bowser would impress him by "focusing on helping these kids to find something to do."
"These kids have nothing to do but hang out in the streets," he said. "Bowser needs to help them find jobs or something."
However, Ethel Delaney Lee says that Bowser is a fine member of the D.C. Council.
"I think she is doing very well," Lee, of North Portal Estates, said. "She is a woman of great moral character and I think that is very important for our ward and our city. She is one of the few members of the D.C. Council that has not been accused of doing something illegal."
The Democratic Party primary for the Ward 4 D.C. Council seat will be held on April 3 of next year and she will likely face Baruti Jahi, the past president of the Shepherd Park Citizens Association and Keith Jarrell, a community activist.
McCollum and Johnson said that they have not heard of Jahi or Jarrell. Lee, 85, said that she received a flyer from Jahi recently and is not familiar with Jarrell.
Lee said that she is "concerned that people are running against Bowser because she supported the re-election of Fenty" as mayor in 2010. In the Sept. 14, 2010 Democratic Party primary for mayor, then D.C. Council Chairman Vincent Gray won Ward 4, 59 percent to Fenty's 40 percent, despite the fact that the ward is Fenty's home.
"It is too bad that some people are not supporting Muriel because she supported Fenty," Lee, who supported Gray, said. "She has been a supporter of the Gray administration and Mayor Gray seems to be impressed with her from what I can tell. I think we need to move on from that race."
Johnson is open to supporting Bowser for re-election, but he has some conditions.
"She needs to be out in the community more," he said. "She needs to show her face in the streets and not at election time and not just in emergency situations."