Johnson Tenders Resignation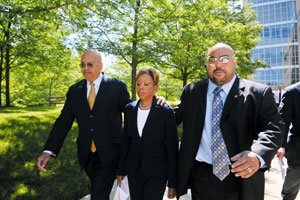 Community Reacts to County Council member's Guilty Plea
On July 5, Leslie Johnson (D-District 6) tendered her resignation from the seat she held on the Prince George's County Council. Johnson's tenure was to end July 31, but a statement released by the Prince Georges County Council calls for her immediate resignation.
"The Prince George's County Council, as a body, calls for the immediate resignation of Leslie Johnson. Furthermore, effective immediately the Council has agreed to restrict all other funding to the District office including, but not limited to, the use of a county car, county parking, cell phone usage, grant expenditures and discretionary funding,"the statement read.
County Council Chair Ingrid Turner received Johnson's letter of resignation on Tuesday morning.
"My resignation is important for the constituents of District 6 so that the district can be in the best possible position to continue to move forward. I, again, apologize for my mistake," Johnson stated in the letter.
The resignation comes one week after Johnson pleaded guilty on charges of conspiracy to commit witness and evidence tampering in federal court on June 30.
"I made a mistake for which I today accepted responsibility," Johnson said following her guilty plea. "I only ask not to be defined by this mistake."
Upper Marlboro resident Pauline Artis has lived in the county for more than 25 years and thinks Johnson did the right thing by stepping aside.
"I feel she should have resigned, she plead guilty of these crimes," Artis said. "How could she continue to represent our county with charges like that against her?"
Longtime District 6 resident Joyce Hanford agreed.
"The resignation was a wise move for Johnson," said Hanford. "I am disappointed. She was a role model and now this scandal has caused a total embarrassment to the county."
In November, the wife of former County Executive Jack Johnson flushed a $100,000 check down the toilet from a real estate developer and hid nearly $80,000 in cash on her person as federal agents poised to arrest her, stood outside of her Mitchellville, Md. residence.
On Oct. 13 Leslie Johnson will be sentenced.
Jacques Chevalier, a 20-year county resident who lives in Hyattsville was very vocal aboutJohnson making a quick exit. He now supports Johnson in her decision to resign.
"I think she has finally done the right thing but she should have never taken office."
On June 30 Chevalier lauded the efforts of U.S. Attorney Rod Rosenstein in the Johnson case.
"I told the prosecutor that he should run for governor," Chevaliersaid of his conversation with Rosenstein following Johnson's guilty plea. "I said I really want you to know that the citizens of Prince George's County admire what the feds have done to halt this corruption."
Chevalier believes the actions of Leslie and Jack Johnson have caused great harm to the county. "It sickens me that Black people think they have the right to steal because white people steal. This scandal is bringing the whole county down," he said.
Still, Artis wonders why Johnson held on for as long as she did.
"I know why she was hanging on for as long as she did," said Artis. "She wanted the $97,000 salary."
Chevalier was emphatic about what he thinks should happen as a result of the Jack and Leslie Johnson scandal.
"Jack Johnson allowed mortgage brokers to sell trick mortgages to people and make millions off the backs of hardworking people," he said. "She should go to jail and he should get enough time that he never sees the street again".
According to a statement released last week by Prince George's County Council Chair Ingrid Turner, Johnson's felony guilty plea and subsequent conviction will prohibit her from voting in future elections under Maryland Election Law. Had she not resigned Johnson would have had to forfeit her office pursuant to Section 310 of the Prince George's County Charter.
On Oct. 13 Leslie Johnson could receive 12 to 18 months in prison. Jack Johnson pled guilty to extortion, evidence and witness tampering could be sentenced to 13 years.A special election will be held to fill Johnson's vacant seat.