Pepco Employees Help Make D.C. Seniors Picnic Outstanding
WI Staff | 7/6/2011, 11:20 a.m.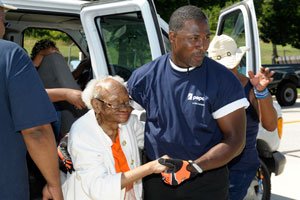 Fun, Food and Games at Oxon Run Park
Thursday, June 30 was a great day for a picnic and some 60 Pepco employees volunteered to serve more than 1,500 seniors at the District of Columbia Annual Seniors Day Picnic at Oxon Run Park. The D.C. Office on Aging and the D.C. Parks and Recreation Department coordinate this yearly event for the enjoyment and relaxation of senior citizens who want to get out for a day of fun, food, and games.
Seniors stayed cool under tents and with snow cones prepared by Pepco volunteers. The Metropolitan Police Department Band entertained the seniors with a wide range of tunes throughout the day.. Pepco volunteers served lunch, officiated over games, prepared popcorn, and assisted seniors in every way throughout the four hour event.
"Working with seniors was a gratifying experience" said a Pepco volunteer following a day of service.
"I am very proud of the employees, who took the time to make this event a success," said Thomas Graham, President, Pepco Region. "Our employees live in the areas we serve and are very active in giving their time to help make those communities."
Pepco thanks the District of Columbia government for continuing to afford the company the opportunity to be a part of the Seniors Day Picnic and looks forward to participating in future community events.
For additional updates, follow Pepco at Twitter.com/PepcoConnect.
Pepco, a subsidiary of Pepco Holdings, Inc. (NYSE: POM), delivers safe, reliable and affordable electric service to more than 789,000 customers in Maryland and the District of Columbia.