Senior Elected Officials, Scientists and Activists Dive Into Anacostia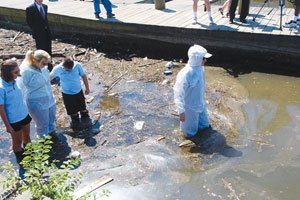 River to Highlight Government Failure to Meet Clean Water Act Goal
A group of leading scientists, community leaders and current and former elected officials plunged into the Anacostia River today to underscore the failure by state and local governments to implement measures needed to clean up the River and the Chesapeake Bay. Participants risked infection and illness -- in waters public health officials have warned are too polluted for swimming -- to implore counties, states and the federal government to more effectively reduce polluted storm water runoff from developed areas and new developments.
Their plunge highlighted a long-delayed clean-up effort, coming nearly 30 years after the federal Clean Water Act target date for making the Anacostia River, and numerous other rivers flowing into the Chesapeake Bay, "fishable and swimmable." The Clean Water Act, enacted in 1972, promised that all American waterways would be clean for swimming and recreation by July 1, 1983.
At the event, the swimmers called for readily-achievable actions by Prince Georges County, the District of Columbia, states and the EPA to put the River and all bay rivers on a path to reach the Clean Water Act's long-postponed fishable and swimmable goal.
"The politics of postponement must end," said former Maryland State Senator Gerald Winegrad. "It is a national disgrace that 28 years after the Clean Water Act deadline for making most waters swimmable and fishable, the Anacostia River -- flowing right through our nation's Capital -- is neither. It is not even close," Winegrad said.
Specific actions proposed include: Expand and tighten Clean Water Act permits for cleaning-up and reducing polluting storm water runoff from developed areas -- especially in PG County and DC where developers and government agencies are resisting tighter controls.
Strengthen state and local development control measures, including a requirement for no net increases in storm water discharge rates, volume, and pollutants for all new developments for a 5-year storm event.
Enact state water quality retrofit requirements for storm water runoff pollution from existing development in counties. This would be best achieved through mandating storm water utilities in each local government and providing adequate funding to assure systematic urban retrofits of large areas of developed lands.
"Clearly, measures undertaken to restore the Anacostia to a swimmable level have failed miserably," said State Senator Paul Pinksy from Prince Georges County, who chairs the Senate Environment Subcommittee and participated in the swim. "We need to take much more aggressive actions to stem storm water runoff that is choking the Anacostia and other rivers flowing into the Bay," he said. "Our state, all Bay states, and the local governments need to step up to the plate and end the pollution ravaging our river systems."
The idea that taking a swim in the Anacostia would represent a risky and bold action that flies in the face of public health warnings made it clear to Anacostia Watershed Society President Jim Foster that elected leaders have spent nearly three decades knowingly turning a blind eye to the landmark Clean Water Act. "A clean Anacostia River depends on our leaders abiding by federal law," Foster said. "We are 28 years behind schedule and that's just not acceptable."