America's Obesity Problem Not Shrinking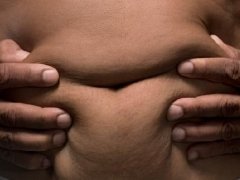 More than 43 percent of black people who live in Kentucky are obese, and Mississippi isn't far behind, with an obesity rate of 42.6 percent, according to the "F as in Fat 2011" report released recently by Trust for America's Health.
The report takes an in-depth looks at trends in obesity and the impact the disease is having on other health issues.
The data for African-Americans, especially in the South, show a growing number of blacks are obese, and also a larger number with diabetes.
"More than two-thirds of adults -- 190 million people -- are overweight or obese; nearly one third of children and teens fall into these categories," says Dr. David Satcher, former U.S. surgeon general and current director of The Satcher Health Leadership Institute and Center of Excellence on Health Disparities at the Morehouse College School of Medicine.
"Childhood obesity rates have tripled since 1980. In some places and among some groups, the problem is much worse. In Mississippi, nearly 70 percent of adults and 44 percent of children are overweight or obese. Overall, almost half of African-American women are obese," Satcher wrote in a commentary included in the report.
The problem with obesity is not one that is easily solved, Satcher says.
"Our society makes it especially hard for some groups not to gain weight. More than 20 million Americans, most of them poor, live in 'food deserts,' areas that lack nearby full-service supermarkets selling fresh fruits and vegetables. People who live in these areas must often make do with corner and convenience stores, which encourages them to eat more of the low-quality, fattening foods that can lead to weight gain," according to Satcher.
Obesity in the African-American community is a systemic issue, says Shavon Arline, the national director of health programs for the NAACP.
"It's not just about an individual's behavior. It's often environmental," Arline told BlackAmericaWeb.com.
"You live in an environment, and that environment affects your life. In many African-American communities, you see fast food restaurants on almost every corner," she said. In predominately white neighborhoods, you see more grocery stores that carry lean meats and fresh vegetables.
Nine of the 10 states with the highest obesity rates are in the South, according to data in the report produced by the Washington, D.C. based Trust for America's Health.
"States in the Northeast and West tend to have lower rates. Mississippi maintained the highest adult obesity rate for the seventh year in a row, and Colorado has the lowest obesity rate and is the only state with a rate under 20 percent," the report stated.
This year, for the first time, the report examined how the obesity epidemic has grown over the past two decades. Twenty years ago, no state had an obesity rate above 15 percent. Today, more than two out of three states - 38 total - have obesity rates over 25 percent, and just one has a rate lower than 20 percent.
Since 1995, when data was available for every state, obesity rates have doubled in seven states and increased by at least 90 percent in 10 others. Obesity rates have grown fastest in Oklahoma, Alabama and Tennessee, and slowest in Washington, D.C., Colorado and Connecticut.
Racial and ethnic minority adults and those with less education or who make less money continue to have the highest overall obesity rates.
According to the report:
- Adult obesity rates for blacks topped 40 percent in 15 states, 35 percent in 35 states, and 30 percent in 42 states and Washington, D.C.
Rates of adult obesity among Latinos were above 35 percent in four states (Mississippi, North Dakota, South Carolina, and behind...... Texas) and at least 30 percent in 23 states.
Meanwhile, rates of adult obesity for Whites topped 30 percent in just four states (Kentucky, Mississippi, Tennessee, and West Virginia) and no state had a rate higher than 32.1 percent.
-Nearly 33 percent of adults who did not graduate high school are obese, compared with 21.5 percent of those who graduated from college or technical college.
"Today, the state with the lowest obesity rate would have had the highest rate in 1995," said Jeff Levi, Ph.D., executive director of TFAH. "There was a clear tipping point in our national weight gain over the last 20 years, and we can't afford to ignore the impact obesity has on our health and corresponding health care spending."