Freddie Jackson Talks Music, Love, the Strength to Move On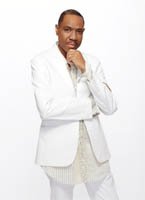 When Freddie Jackson brings his romantic, soulful ballads to DAR Constitution Hall on July 15 as part of the "Men of Soul" tour -- which also features R&B legends Jeffery Osbourne and Peabo Bryson -- fans can look forward to seeing an entertainer whose propensity for going full force, remains unwavering.
Known as a hard-worker who believes in giving his fans their money's worth, Jackson said he was honored to be a part of the tour, having admired the works of Osbourne and Bryson since he was in junior high school.
"Peabo Bryson told me that I was like a little brother to him," Jackson said in a recent interview with the Washington Informer. "I have learned a lot from these guys while on tour -- in fact, we've learned a lot from each other."

However, the 54-year-old Harlem-born singer whose career began in the mid-1980s, attributes his longevity to "my amazing fans," and feels blessed to have made "great" music for so long.
"I believe I have that special gift," Jackson said, while crediting the late Luther Vandross for encouraging him to develop his niche.
But according to Jackson, the music industry is more concerned about what's happening now, as opposed to expressing interest in music that lasts.


"That's why the "Men of Soul" tour has been so well received," Jackson said, explaining that the songs that the trio performs on tour were built to last. "Said Jackson: "Much of the music today is fly-by-night music that's been watered down."
Among his string of signature wedding and baby-making hits are "You are My Lady," "Have You Ever Loved Somebody (his personal favorite)," and "Rock with Me Tonight. "

Jackson said he invested a lot of emotions into "Have You Ever Loved Somebody," which was a testimony that resulted from emotions he dealt with as a victim of unrequited love.

"You can be deeply in love with somebody, but that doesn't mean they love you the same," Jackson said.

Meanwhile, he expresses gratitude for the slate of gifted writers who have produced the songs that have kept him working.

"I meet people all the time who tell me their parents said they were created listening to my songs," Jackson said. "I've sung "You Are My Lady" at many, many weddings and have made big bucks off of it too. It's an incredible song."

Although Jackson has been away from the U. S. touring circuit for while, he was quick to point out that he's never stopped touring.

"I've been steadily working overseas," he said. "I love working in Europe where the fans love you for your first record, not just for what you are doing now."

Jackson lists among his favorite singers the likes of Anita Baker, Natalie Cole, Aretha Franklin, Neyo and the Isley Brothers, whose sultry "Living for the Love of You," is among his all-time favorites. "Right now, I'm really loving Kelly Price's new album, "Kelly," he said. "She's singing her brains out on this album."

Jackson himself, has a new album that's been out for a while. But he said the sales are not moving as fast as he'd like. He believes that's due to lack of marketing and advertising.
He admitted tearing up recently while visiting a small record store in New York.

"They had my posters displayed and it was beautiful," Jackson said. "People want to see the posters and other merchandising, and I definitely believe that helps sales."

Jackson, who recently lost his mother, said her death has been the hardest thing he's ever had to face. He said now that she's gone, he's been forced to find the strength to move on.

He also said he continues to live by his mother words, that we only live once and that tomorrow is not promised.
"So I make sure that I make the most of each and every day," Jackson said.