Bill Euille, a Steady Hand on the Ship of State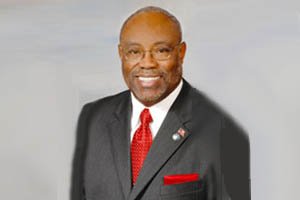 At a time when municipalities around the country are awash in red ink, Alexandria, Va., Mayor Bill Euille is proud that he is presiding over a period of relatively stable times in the port city.Sitting in his office in City Hall, Euille bubbles with enthusiasm as he describes the city of his birth and the growth he has shepherded since he first took office as mayor in 2003.
He is the first African American to hold this position in Alexandria's more than 230-year history.Surrounded by mementos of his political, business and personal lives, Euille ticks off a long list of activities he is involved with and says he enjoys the frenetic pace.
"People chide me for not slowing down. I like the job of mayor. I said, 'Why not me?' I have been able to balance public service and other responsibilities since I was knee-high to a butterfly," Euille said.
Before ascending to the city's top post, Euille served on the school board and city council, and as vice-mayor. He began his public service in 1974.
"For the last 35-40 years of my life, I have averaged about five hours of sleep," he said with a broad smile. "I believe that when you sleep, the clock's ticking and you miss opportunities. If you're asleep you can't swing. I am fully engaged."
Euille, who said he works out at least five days a week and regularly plays racquetball and street [basket] ball, fell on a slick portion of the Braddock Road Metro platform while running to catch a train last year and badly injured his knee.
"It was a traumatic experience to say the least ... however, the knee is doing great," said Euille, who ironically is a member of the Metro board of directors.
"It's 90 percent healed and I am at the gym every day. I am back to the treadmill, ellipticals and lifting weights. I attribute my fast recovery to excellent physical fitness."
Euille grew up in public housing, and remembers as a child traveling 10 blocks past City Hall on the way to school, unaware that he would one day be the point man running the city. Euille helped integrate Jefferson Middle School and high school. He went to T.C. Williams High School as a sophomore in 1965 and graduated in 1968. He graduated from Quinnipiac College in Hamden, Conn., in 1972 with a bachelor's degree in Accounting.
On his return to the city of his birth, Euille joined a construction company, where he learned the trade and later became vice-president and controller. His main duties included responsibility for the company's financial, contracting and administrative functions.
Euille said while Alexandria "didn't have a hard time integrating schools," declining enrollments in 1971 eventually led him to run for office on the local school board when he was 24 years old. Later, he said, he jumped at the opportunity to contest the mayor's race in 2003 after local businesspeople and citizens encouraged him to run. He won by a sizeable margin then, and ran unopposed in 2006 and 2009.