Black Women for Obama 4 Change Honors Mayor Gray, Virginia Delegate Herring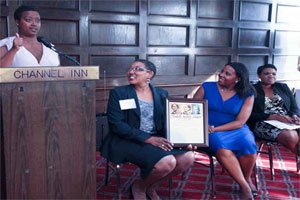 Black Women for Obama 4 Change, a national social networking organization, hosted a reception for endorsed elected officials on Wednesday, June 22 at the Channel Inn Hotel, in Southwest. The evening included presentation of the historic "Elizabeth Keckley Award" to Mayor Vincent Gray (DC), Delegate Charniele Herring (Va.), Congresswoman Karen Bass (Ca.), Congresswoman Terri Sewell (Ala.), Congresswoman Niki Tsongas (Mass.) and California Attorney General Kamala Harris (Calif.). The Elizabeth Keckley Award symbolizes the historic gains of the African-American community.
In a joint statement, BWFO4Change Co-Chairs Dr. Stephanie E. Myers and Daun Hester, former Norfolk, Va. City Councilwoman stated, "We are proud to support elected officials who are dedicated to protecting hard-fought gains of Black families who have gone from modest beginnings to join the great American Middle/Working Class. We want the doors of opportunity to remain open for all Americans who work hard and deserve to preserve their gains."
BWFO4Change Networker Mary Bernadette Tolson made the presentation to Gray; SelamMulugeta, former Alexandria, Virginia Obama campaign liaison presented to Virginia Delegate Charniele Herring; and Dr. Stephanie Myers, BWFO4Change Co-Chair presented to Congresswoman Karen Bass, (Calif.). Ms. Bass was represented by her Legislative Director KemiJemilohun. Presentations for absent honorees will be scheduled on Capitol Hill, during the month of July.
Journalist Barbara Reynolds and long-time D.C. community organizer Johnnie Rice interviewed honorees about their commitment to new jobs creation, maintaining jobs in the United States, supporting small businesses, voting rights for D.C. education and home ownership and protection of Social Security, Medicare and Medicaid.