Chemical Plume Hovers in the Air over Ward 8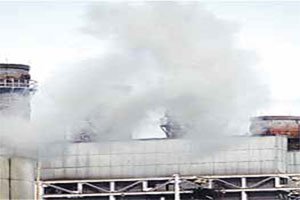 You can't see or smell it but a hazardous plume of sulfur dioxide is looming over Ward 8. The culprit?Emissions from the Potomac River Generating Station, according to theresults of new Sierra Club report.
"We thought there was a risk so we contracted with an engineer and used the Environmental Protection Agency (EPA) methodology to see whether there were air quality violations," said Phillip Ellis, a field organizer for the Sierra Club who has been working with the community in Alexandria, Va. where the plant is located. "We don't need the energy from that plant," Ellis said. "We want to retire the plant."
Previously known as the Mirant Potomac River Generating Station, the 514 megawatt coal-fired energy plant owned by the Houston-based GenOn Corporation provides auxiliary power to the District, Maryland and Virginia.
"It poses a significant threat to the families of D.C," said Ellis "Minorities, children and elderly women are disproportionately impacted by the health risks associated with the emissions from this plant," he said.
The GenOnpower plant has been cited three times for air quality violations by the Virginia Department of Environment in the last three years and has long been a source of tension and frustration for Alexandria residents.
"There is a really simple solution. Under the Clean Air Act, D.C. has the power to file a petition to stop the plant from polluting," said Ellis citing oil spills in recent months which dumped hundreds of gallons of oil into the Potomac River.
"It is an environmental justice issue," said Irv Sheffey, Associate Field Organizer for the Sierra Club Environmental Justice and Community Partnerships program. Plants like this one were often built on the other side of the tracks where Black people lived,"Sheffey said. "I haven't looked at the history but [at the time the plant was constructed] this part of Old Town was more than likely occupied by Blacks."
Exposure to sulfur dioxide can cause asthma and exacerbate the symptoms associated with respiratory difficulties. Children and the elderly are particularly at risk for health complications associated with So2 exposure. Environmental Protection Agency (EPA) data shows a connection between short term exposure and increased visits to emergency departments and hospital admissions for respiratory illnesses.
Ward 8 resident Glenda Smith suffers from asthma. "I didn't have it when I was younger, I didn't get asthma until six years ago. Recently I took a breath test and even with all of my deep breathing, it [the monitor] didn't go over 200," Smith said.
Smith attributes her asthma to a mixture of hereditary and environmental factors. "I would say it is a combination of things, my mother has asthma, and dust, mold and poor air quality also trigger spells of coughing and choking," she noted. "But, I am very disturbed [about the sulfur dioxide plume] because it adds to the difficulty of breathing."
Last week, the Sierra Club held a meeting about their air quality findings with residents and officials at the Earth Conservation Corps Pump House at Diamond Teague Park in Southwest.