Chemical Plume Hovers in the Air over Ward 8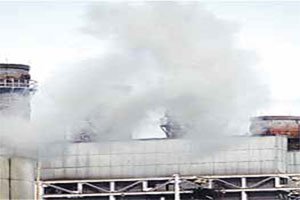 Sheffey and the Sierra Club urgedlocal government officials to take action on the issue. "Look at the wellbeing of our residents. Are they being adversely impacted by this coal-fired plant?"Sheffey questioned. "The government is a voice for the people. Communities are suffering and they don't even know it."
Mayor Vincent Gray said that he and his administration were concerned over the high levels of sulfur dioxide being emitted from the plant because of their potential adverse effects on District residents.
"I take the health and well-being of our District residents very seriously and I'm deeply concerned about this report," said Mayor Gray. "It is my sincere hope that the parties responsible will step up and do what's right for the environment and health of our citizens."
Addressing the release of sulfur dioxide from the plant is also a priority for the District Department of the Environment (DDOE).
"We are concerned about these modeling results and are considering a petition to EPA under section 126 of the Clean Air Act to ask EPA to address the situation," said DDOE Director Christophe A.G. Tulou. "We will also work with the Public Service Commission to ensure that possible loss of generating capacity at the power plant would not jeopardize the reliability of electricity in the District during times of peak demand."
Sheffey also encourages residents to get involved. "Overall, take notice of where you live, breathe, work, and play. You have to be mindful of the water, food, and air surrounding you," he said. "Join with your neighbors, and public officials on this issue. We need to be responsible stewards of where we live and we cannot take it for granted."
Ellis had these last words for GenOn Corporation.
"The CEO of GenOn recently stated that they expect retirement of some of their coal fleet. This plant is one of the oldest most inefficient and dirtiest coal plants. Why is it still in operation?"
The Washington Informer contacted the GenOn Corporation in Houston Texas for comment but they did not return our call.
More information about this issue can be found online at Sierraclub.org
WI Staff Writer