Kilpatrick Has His Say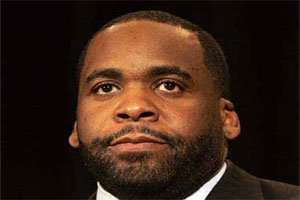 That EPU member, Walt Harris, claimed Kilpatrick had him drive around the city so the former mayor could meet up with women to have sex with them. Kilpatrick called his stories "sexy" and "descriptive" and ones that apparently only Harris had witnessed.
It was Harris' statement that Kilpatrick and Beatty used their two-way pagers "all the time" that Kilpatrick notes changed the dynamics of the case "and the way it was reported."
It was this, he believes, that slowly switched the focus from "wrongful termination to sex, affairs and cover-ups."
Kilpatrick maintains in his book that Brown didn't do the job he was asked to do.
"And that's why I took it from him," he writes. "I'd never encountered the level of treachery that Gary Brown displayed and, to this day, I have no idea what I did to warrant it."
Kilpatrick recognizes his wrongdoing -- the affair -- throughout the book and there tends to be a consistent apologetic tone, but more to his wife and God.
He also expresses remorse surrounding his role in Beatty's hardship following the suit.
It's apparent when he mentions Beatty that there's a friendship between the two that supersedes the "salacious nature" we've come to see, although he himself calls the exchanges "lewd."
To read Kilpatrick's book only for the account of the scandal is not enough. It's his description of the city's business, contracts, and the players involved that makes it a worthy read.
Kilpatrick, with his in-your-face approach, boasts of the progress his administration made. "Trash pick-ups," new parks, new businesses downtown, are on this list.
"I don't think anybody understands it, but I do believe that the people in Detroit can truly see and feel the effects of people being in office who are not working as hard as we were," the former mayor writes.