Ward 8 Community Summit Touted a Success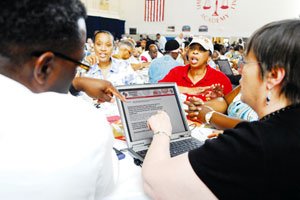 An estimated 600 people participated in a community meeting recently to determine the direction of a ward located in Southeast Washington. D.C. Mayor Vincent Gray convened the Ward 8 Community Summit on Sat., July 9 at the Savoy Elementary School Gymnasium in Southeast, with members of the D.C Council, his cabinet, residents of Ward 8, concerned citizens from other parts of the District and Prince George's County Executive Rushern Baker. The turnout impressed Ward 8 resident Charles Wilson.
"This is really good," Wilson, 35, said. "It was a great idea of Mayor Gray to bring the people of Ward 8 together to discuss what we want our ward to look like."
The summit was facilitated by AmericaSpeaks, a non-profit, non-partisan organization based in Northwest that engages citizens in the public decision-making that affects their lives. The summit was similar in many ways to the citizen summits that were convened by Anthony Williams, when he was the mayor of the District.
Members of Gray's cabinet circulated to tables and talked with participants. D.C. government agencies set up tables in a room outside the gymnasium to inform participants about what services they offer.
Registered participants were assigned to one of the 33 tables used to foster discussion about the future of Ward 8. At times, participants used keypad polling to register their views and to engage in facilitated group discussions about what should happen in the ward.
The keypad polling also recorded who participated in the summit. Data published in the preliminary report stated that females out-numbered males, 54 to 46 percent and that 86 percent of the participants were Black.
Both statistics closely reflect the makeup of Ward 8, which is 55 percent female and 94 percent Black.
A statistic that drew keen interest was the residential makeup of the participants. Sixty-seven percent lived in Ward 8, with the rest being from other parts of the city.
Ken Fealing, a resident of Ward 5, attended the summit because he said that he had a stake in the ward.
"I have business associates and interests in Ward 8," Fealing, 45, said. "I came to see how this process in citizen democracy works and I am really impressed."
Baker said that when he found out about the summit, he had to come.
"Ward 8 and inner-Beltway communities in Prince George's County have so much in common," Baker, 52, said. "Both areas are the economic engines of the Washington region and it is important that they work together."
Topics addressed during the summit included what participants liked about Ward 8 and what were their concerns. They discussed issues such as managed growth, housing and retail, transportation and jobs.
The discussions at the tables became animated at times, with participants passionately talking about the problems and the potential of Ward 8. Patricia Onakoya, at Table 22, talked about the importance of education and economic development options for young people while Geraldine Law said that returning to the values of the past with help Ward 8 move along.