D.C. Teachers Fired for Failing IMPACT Evaluations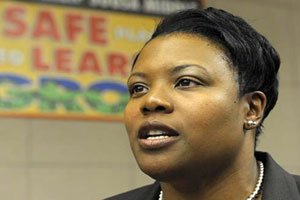 Nearly 300 teachers lost their jobs last Friday because they scored poorly on evaluations.
"They had been given a year to improve," said District of Columbia Public Schools (DCPS) Chancellor Kaya Henderson of the 288 people released, but they fell short."
In all, 413 DCPS employees received separation notices based both on performance and non-compliance with licensure requirements. Of the 288, 113 teachers received ineffective ratings and 175 others received minimally effective ratings for the second year in a row.
"This moves out ineffective teachers. If you are rated ineffective, you are saying goodbye to DCPS right away," Henderson said in an interview Friday, July 15. "Everybody will receive the final scores today. Teachers also have the right to resign or retire."
For the past two years, District teachers have been evaluated using a $4 million tool called IMPACT. It was developed by Henderson when she was deputy chancellor, under the direction of former Schools Chancellor Michelle Rhee.
"When we got here it was very clear that teacher evaluations were not giving us the information we needed," Henderson, 40, said. "We looked at a number of models, many [of] which had strong components. We sat down, reached out to external folks all over the country and designed our own evaluation. This is the second year of implementation and it's nationally recognized."
IMPACT evaluates teacher performance based on measurements of student achievement, instructional expertise, professionalism and collaboration. Teachers get feedback five times annually and at the end of each school year, they receive one of four ratings: Highly Effective, Effective, Minimally Effective, or Ineffective.
Henderson said teachers who fall into the minimally effective range have a year to improve or also face losing their jobs.
Washington Teachers' Union President Nathan Saunders, 46, said he's still not sure how many teachers were fired because he hasn't received final numbers from District School officials. If teachers don't have a license, he said, he and the union have no objections with them being fired.
"An issue of concern for me is about teachers who receive two 'minimally effective' ratings. What's important is to look at an analysis of the scores to see if they stayed the same or if they are moving [forward]. That's why I supported exceptions," Saunders said.
"The reality is that if a teacher scored a 2.1 the first year, plus 2.45 the next year, he or she should get an exception with a recommendation from the principal. Initially, DCPS only offered exceptions for new teachers. (However), DCPS has embraced that policy. That was a win. It is common sense, a no-brainer."
Saunders said he is equally concerned about the impact of the firings on veteran teachers, particularly African-American women educators.
"This is another thread that is too important to be dismissed. There is a pool of terminated teachers who despite being effective and highly effective were fired because they were not able to find a job in the school system," he said. "DCPS has an employment practice to act as if teachers are not employed. You might have someone teaching third grade for 18 or 19 years and who is not spending time enhancing his or her employment skills. It's unfortunate."