DCPS Test Scores Moving in Right Direction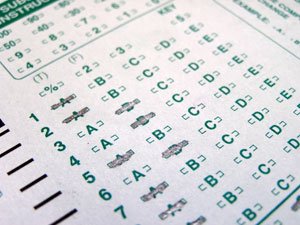 District of Columbia Public Schools (DCPS) officials have expressed satisfaction at recently-released test results which indicate "solid gains" in math and reading at the 7th-and 8th- grade levels. Further, math scores at the high school level have risen since 2007, and every grade has performed better in math since then.
Preliminary results of the 2011 District of Columbia Comprehensive Assessment System (CAS) show that while scores for elementary students remained unchanged, there were dramatic improvements in grades 7 and 8. Forty-nine percent of 7th- graders and 51 percent of 8th-graders scored proficiently (an increase of 4 and 8 percentage points, respectively, over 2010), said Schools Chancellor Kaya Henderson.
"In 2007, our seventh-and eighth-grade students were the lowest-performing in the District. Today, seventh and eighth graders have shown they can move us forward by making steady progress in reading and climbing to the top in math proficiency," Henderson, 40, said. "We will work hard as a school district in the next school year to build on the progress we have made. We have a long way to go in reaching our goals, but our seventh and eighth graders have proven we can make steady progress."
The DC CAS math and reading tests are administered each year in grades 3-8 and 10. The test establishes proficiency rates in reading and math and determines whether schools have met Adequate Yearly Progress (AYP) levels, as outlined in the No Child Left Behind Act of 2001 (NCLB).
District schools will have until July 22 to review their data for accuracy and report any concerns to the Office of the State Superintendent of Education (OSSE) through an appeals process.
Mayor Vincent C. Gray appeared pleased with the progress.
"The 2011 DC CAS results show continued progress throughout the school system since 2007 and advances in some categories over 2010," Gray, 68, said. "I am confident that Chancellor Henderson will use these results to focus on areas in need of improvement and ensure that DCPS students in every ward and at every grade level achieve at high levels."
Comparisons between the 2011 preliminary results and 2010 scores indicate that secondary math scores have increased significantly, while secondary reading and elementary scores remained relatively constant.
For example, 46.4 percent of secondary students scored proficient in math - up 2.7 percentage points from 2010; 44.2 percent of secondary students scored proficient in reading up 1 percentage point from 2010; 43.0 percent of elementary students scored proficient in reading - down 1.1 percent from 2010; and 42.3 percent of elementary students scored proficient in math- down 0.8 percent from 2010.
Washington Teachers' Union (WTU) President Nathan Saunders, 46, said the scores that concern him the most are those produced by third and fourth graders. "If you read Jawanza Kunjufu, he shows how important third and fourth grade is for black male children. That's where boys begin exhibiting problems with reading primarily, "Saunders said. "It has been shown that reading levels are directly related to the incarceration rate. Reading rates are showing a decrease which is not an overall positive trend," he continued