Observed, Defined, Explained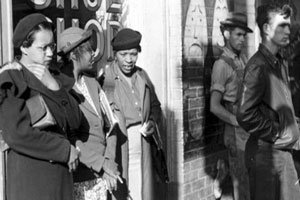 Why the Help Misses the Mark in Telling Black Domestics' Tales
When Katheryn Stockett's novel The Help hit book sellers in late 2008 it was touted as a refreshing look at the lives of Black maids in 1960s-era Jackson, Mississippi. On the surface, Stockett's tale of race and class offered a lighthearted, however, disjointed account of burgeoning civil rights activity among Black maids. However, the rendering was done so through the eyes of a young, unbelievably nave white girl, whose family employed one of the maids. The novel bent the natural laws of reason in order to portray innocence and southern gentility. In fact, it teetered on the absurd. Honestly, even Gone with the Wind needed the emotional anchoring of the Civil War to support its revisionist romanticism. The film, of the same name, opens in theaters this week and promises to offer a sideshow of sorts that supports the same light-heartedness.
The Help centers less around the African American maids as it does twenty-two-year-old Skeeter, a recent Ole Miss graduate whose journalism degree is called into question because she has no passion or understanding of the world around her. Hell-bent on finding an investigative piece to set her career in motion, Skeeter decides to investigate the departure of her childhood "playmate" - the family maid - Constantine.
In the process, she unearths both the symbolism and complexities of the Black women working for racist white families. Stockett does not move particularly far from her comfort zones. She may by no means be racist, but she certainly grew up with her grandmother's maid Demetrie, at the ready, and invokes enough of her upbringing to offer Demetrie no last name or even the prerequisite "Miss" young people afford elders. And while Stockett beams on about "loving" Demetrie, she does not pay homage or respect to her in this book or film.
Particularly annoying about Stockett's work is that it avoids the utter turmoil Mississippi faced during the civil rights era. Ole Miss, her character Skeeter's alma mater, was the real life setting for one of the most volatile state-federal showdowns in the country's history. Governor Ross Barnett adamantly defied President John F. Kennedy's desegregation mandate for the University of Mississippi (Ole Miss), telling him, "you may run the country, but you don't run Mississippi!" To omit from the record through literary license the socialization that forced a president to send in National Guard troops to uphold the law of the land in Mississippi, trivializes the cultural landscape these women negotiated.
The untold story of Black maids and their ongoing, often clandestine activism deserves to be told - by the maids themselves. Navigating an often hostile and dangerous environment that was wrought with sexual assaults and physical trauma at the hands of their male employers, African American women mobilized through women's group and church and civic associations, to protect themselves.
Simply put, some things cannot be made light of. And while a not a work of fiction, Susan Tucker's Telling Memories among Southern Women: Domestic Workers and Their Employers, offers a much more concise and accurate glimpse into realms of domesticity. Having been raised by her grandmother's maid Mattie Ellis, Tucker, wrote: