OKLAHOMA! Back and Better than Ever
7/20/2011, 11:56 a.m.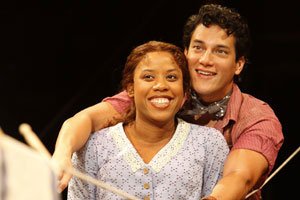 Arena Stage Revives Award-winning Resident Musical for Summer 2011
There were some who thought it too risky. To open a brand-newly renovated historical Washington theater with a revival of a Rogers and Hammerstein 1943 musical, later made into a movie starring Gordon McRae and Shirley Jones, would be a stretch. But Molly Smith, Artistic Director for the Arena Stage at the Mead Center for American Theater thought it was a damn good idea when she chose to stage Oklahoma! last spring. With her own roots in the American West, Smith envisioned what the real Oklahoma territory looked like, Broadway musical aside. As she said in her "Artistically Speaking" column, "Oklahoma was diverse--frontiers always are. Arena's cast is an American tapestry, with all colors and types. African-Americans, Native Americans and Asian Americans lived in Oklahoma at the beginning of the 20th century."
"The shared a territory," she writes, "but they lived in separate communities. Arena's production celebrates this diversity but also reflects modern America where people from all backgrounds and races live and work together."
And this ensemble cast, starring the amazing E. Faye Butler as matriarch Aunt Eller, Eleasha Gamble as leading lady Laurey and Nicholas Rodriguez as protagonist Curley, really works together. From the opening song, the iconic "Oh What a Beautiful Mornin'" sung by Rodriguez in a spine-tingling tenor, Oklahoma! sizzles with heat. The cast not only flawlessly executes the songs that made this play in its own day; "The Surrey With the Fringe on Top," "People Will Say We're in Love," and "The Farmer and the Cowman" just to name a few; the dance numbers (originally choreographed by the legendary Agnes de Mille) are so highly charged and energetic, they leave the audience breathless.
And there is something to be said about having two leading actors being African-American. It makes the production seem pertinent to our times and community, and also recalls the reality that African-Americans were fully present in the Oklahoma territory during that pivotal time as the region looked toward statehood--an issue that also weighs on the minds of District residents.
One outstanding element is the role of Ali Hakim the itinerant Middle Eastern peddler (executed by Nehai Joshi with an ample supply of comedic skills) who also has a way with women. But when he launches into song on "It's a Scandal, It's an Outrage," one realizes that Joshi is also a gifted singer and actor beneath his humorous exterior.
Ado Annie, the young and nave flirtatious teen played by June Schreiner, is in fact, truly a teen having recently turned 17. As a senior at the prestigious Madeira School, Schreiner not only nails the Western twang, but brings a genuine fresh youthfulness to her character. She spent two summers at Arena Academy and one winter in Oklahoma! when it premiered.
In fact, the premise to bring back Oklahoma! for the summer, which is usually down time for major theater, was more of a mandate than a choice. When the play had its initial run, it shattered all box office records for Arena Stage's 60-year history and left several enthusiastic theater patrons out in the cold. The entire run sold out with people still looking for tickets.
The premiere production won four Helen Hayes Awards including Outstanding Resident Musical among its 10 nominations. Musical Director George Fulginiti-Shakar received an award for his 13-piece orchestration of the enduringly nostalgic score, as did choreographer Parker Esse. Tony Award-winning designers Eugene Lee and Marti Pakledinaz also won awards for costume and set design respectively.
So, when the decision was made to open the theater for the summer prior to the official 2011-12 season that begins on Sept. 9 with Alice Childress' Trouble in Mind, there was no doubt what play should fill the gap. Oklahoma! Okay!
Rogers and Hammerstein's Oklahoma! at the Arena Stage at the Mead Center for American Theater runs through Oct. 2 on the Fichlander Stage. Tickets are available online at www.arenastage.org, or by phone at (202) 488-3300. Tickets can also be purchased at the box office at 1101 Sixth Street, Southwest.