Black Bankers Aim to Empower Communities Through 'People's Economic Movement'
7/22/2011, 12:07 a.m.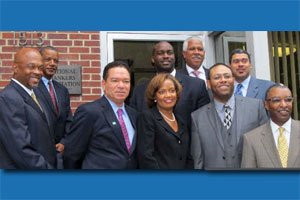 WASHINGTON (TriceEdneyWire.com) - In his last public message the day before he was assassinated, Dr. Martin Luther King Jr. called on Black people in Memphis to support Black banks.
"We've got to strengthen Black institutions. I call upon you to take your money out of the banks downtown and deposit your money in Tri-State Bank," he said in his "Mountaintop" speech at Mason Temple, April 3, 1968. Tri-State Bank, now 65 years old and still in operation, was among the institutions where civil rights demonstrations were planned during that time.
After encouraging people to also support Black insurance companies, Dr. King concluded in his speech, "These are some practical things that we can do. We begin the process of building a greater economic base. And at the same time, we are putting pressure where it really hurts. I ask you to follow through here."
Felled by an assassin's bullet the next day, the "follow through" for which Dr. King asked never really happened. Fast forward, 43 years later, an organization of Black and other racial minority banks and a radio talk show host have now united to take up the mantle amidst an economy that is still causing disparate suffering to African-Americans.
Atlanta-based radio talk show host Warren Ballentine and the Washington, D.C.-based National Bankers Association believe reinvesting in Black-owned banks could inspire economic healing and strength in every aspect of the Black community. That's why they have started "The People's Economic Movement."
"If we want to change all the drugs in our community, if we want to change all the violence, if we want to change the educational abilities that our next generation will have, it starts with having the capital available to teach the proper things to do to make a difference," said Ballentine during a July 15 press conference at the NBA headquarters to announce the new movement.
A lawyer and bankruptcy attorney, Ballentine knows well human behavior as is relates to money.
"If we all come together and just open up accounts - not give your money away, but just open up accounts so that the Banks will have the position to be able to lend of the money to help the community - then people will have accountability because they have ownership and they're tied into it. And once they have an ownership, they're going to treat it so much differently than they're treating it right now," he said.
In a nutshell, the NBA and Ballentine will officially announce "The People's Economic Movement," on August 28, coinciding with the unveiling of the Dr. Martin Luther King, Jr. memorial in Washington. Ballentine will encourage people to open accounts in Black banks, which will in turn establish community programs to enrich their customers and neighborhoods.
NBA President Michael Grant sees the self-help movement as a catalyst to the stimulation of "much-needed economic development at our nation's urban core."
He said in a statement, "By depositing our money in minority banks, getting mortgages, small business loans or loans for college tuition from banks in our communities, consumers begin a process of harnessing the economic strength of the masses in a way that creates direct benefits to their communities which are still suffering from the worst economic crisis since the Great Depression."