Black Bankers Aim to Empower Communities Through 'People's Economic Movement'
7/22/2011, 12:07 a.m.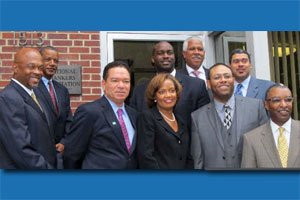 Big banks have gotten a bad name during the economic downturn, largely due to their receiving bailout money while record numbers of people lost their homes due to predatory mortgage loans and unemployment. But, Black-owned banks are in a different category.
"Literally, the predatory lending, it wasn't from the small community banks. That was from the big banks...The banks that we're dealing with, the members of the NBA, were responsible and conservative and accurate in what they were doing as far as their lending practices in comparison to other banks," Ballentine said.
Blacks have suffered most in the economic downtown, including unemployment rates that are consistently nearly twice the national average.
The "People's Economic Movement" will bring hope, Grant said during the press conference. "This campaign is allowing us to give folks something to rally around that they can believe in...This is an opportunity for us. We've decided that the NBA can and should play a galvanizing role to pull together elements of our community to start making economic development and finance an issue of importance to our communities."
Ballentine's vision has already been put to the test.
Kim Saunders, president and CEO of the 103-year-old M&F Bank in Durham, was applauded by her colleagues at the press conference when she said her bank established more than 60 new accounts in one day as Ballentine used his radio show to encourage people to open accounts during a National Community Reinvestment Day. "In our Charlotte Branch, we had standing room only," she recalled.
She said her bank has a strong relationship with faith-based communities, does hundreds of financial literacy workshops a year, has more than 1,000 new accounts, including 225 youth savings accounts and have garnered more than a million dollars in deposits.
Saunders is now on radio every Friday featuring customers talking about their M&F experience in learning about banking and establishing relationships that put them in homes and their own businesses.
Small banks teach people everything from how to write a check, balance a check book or pay their bills, Saunders said. "It's been an amazing campaign...I think this is really what we are called to do."
The "People's Economic Movement" is also expected to benefit community development overall. There are approximately 38 Black-owned banks in America. Because of limited deposits, none of them has a lending capacity of more than $3.5 billion, but, in the past, they have pooled their resources in order to fund major projects.
The Rev. Deforest B. Soaries, Jr., senior pastor of the First Baptist Church of Somerset, N.J., underscored the importance of the involvement of churches in the campaign.
"After you come to God, the second thing you do in our church is get out of debt and develop a budget and live within your means and pay yourself first," Soaries said at the press conference. "This is not just the role of the church, but the responsibility of the church. My lifestyle depends on people putting money into the plate, which means that my responsibility is to help them with the money they don't put in the plate."