Harry Thomas Agrees to Repay City $300,000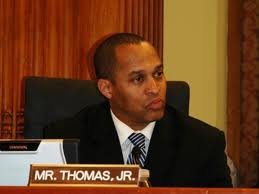 Embattled Ward 5 Council member Harry Thomas Jr. has agreed to repay $300,000 to the District in exchange for the city dropping a $1 million law suit against him.
The agreement that was made in a plea deal with D.C. attorney general, Irvin Nathan, calls for Thomas to pay back the money that was intended for a youth sports program over a two-year period. He has reportedly made an initial payment and arranged to pay the remaining funds in five increments of $50,000.
The deal also requires Thomas - who is restricted from soliciting charitable donations in D.C. through 2016, except for his constituency fund - to donate $50,000 worth of sporting goods and equipment to Little League Baseball.
Thomas, 52, has been a member of the City Council since 2007.
Although he admitted no wrongdoing, he reportedly used the missing money to pay for personal items and expenses, including a $58,000 Audi sports SUV, trips to Las Vegas and golf outings. Last month, in the wake of the civil action taken against him in D.C. Superior Court, Thomas stepped down from chairmanship of the Committee on Economic Development.
"Bringing and prosecuting this action demonstrates our commitment to pursue anyone, no matter his or her station or influence, who would deprive the city of its precious resources or who would use his or her position of trust and influence to obtain District of Columbia funds for personal gain," according to a statement from Nathan.