Glittering Gamble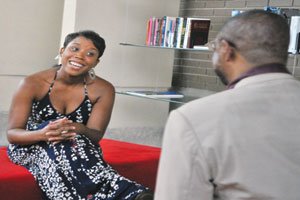 When I was given the opportunity to do a feature article on the current, rave-review winning production of Oklahoma at the newly renovated Arena Stage Theatre, I jumped at the chance. I saw the dress rehearsal and was surprised and intrigued by the show and impressed with a number of the performances and elements of the production.
I was surprised because I have always thought of Oklahoma as a quintessentially "White" musical. I was intrigued because I was interested in seeing how this exercise in "alternative casting" would work and I was impressed because some of the performances and production values were just that outstanding.
Several words come to mind in thinking of ways to describe Eleasha Gamble, the actress portraying Laurey in the show: scintillating, ebullient, effervescent, but I prefer, glittering. Onstage, in character, she is captivating, believable and lovely. Offstage, she is unbelievably, even more engaging.
Having a million-wattage smile is a distinct advantage as a leading lady, but matching it with grace, intelligence, a sense of humor and a bit of wisdom makes her a real standout. Gamble is a local talent, having grown up in Takoma Park with her parents and an older sister. She graduated from Catholic University in 2002 and has enjoyed a fully charged theatrical career for someone so young.
Click the image above for SPECIAL WASHINGTON INFORMER 1/2 OFF ticket offer
When asked about her feelings on alternative casting, she remarked, "I guess there really is not another word for what it represents, but I feel it is a viable method of providing opportunities for actors who might not be considered for certain roles."
In reviewing her theatrical resume, I told her that she could be a virtual "poster person" for the benefits of using alternative casting. Playing Nancy in Oliver!, Eliza in My Fair Lady, roles in Follies, Chess, Grand Hotel, and West Side Story among others, has given her a performance profile known by few African American actresses.
She notes that much of her success is built on the values instilled in her by her family through her Catholic upbringing. She first started singing in church choirs at 9 years old and by her freshman year in high school, when she won the role of Nancy in Oliver!, decided this was the career she wanted. She acknowledges that she has been blessed with "angels" throughout her career, specifically mentioning Eric Schaeffer, Artistic Director of Signature Theatre in Virginia (where she has done a significant portion of her work) and the late Jane Pesci-Townsend, her voice teacher and friend at Catholic University.
Two roles she would love to play are Fosca in Passion and Evita. Twenty years from now she would like to have conquered Broadway, done a few films and begun a family, something that always been a part of her life plan.
She is ambitious, hardworking and has established a reputation of excellence and integrity among her peers. Consequently her success leaves little time for much outside the world of theatre. She does however manage an occasional "tropical island getaway."