Metro Pass Honors MLK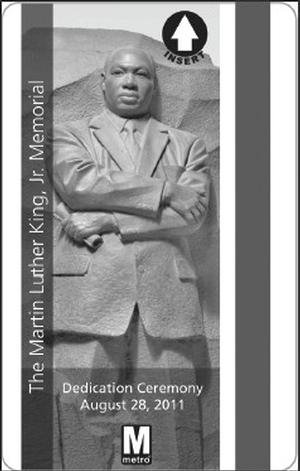 Metro has introduced a commemorative one-day pass featuring an image of the Martin Luther King, Jr. Memorial. The pass coincides with the opening and dedication of the national memorial on Aug. 28.
Customers can purchase the limited-edition pass for $9 on Metro's website, at the agency's sales facilities and regional transit stores.
The pass is good for one day of unlimited Metrorail travel on weekdays after 9:30 a.m. or all day on Saturdays, Sundays, and some federal holidays (unlimited Metrorail travel begins after 9:30 a.m. on Martin Luther King Jr. Day, Presidents Day, Columbus Day, and Veterans Day).
The pass expires at the end of the operating day.