Resolve Conflicts Through Active Listening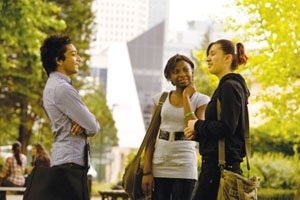 "It's been a busy weekend; there have been so many shootings and stabbings," he said during a July 24 interview. "Listening plays a very important role as we find ways to resolve conflict."
McFadden, 37, said he and other youth counselors have to tread very carefully when attempting to defuse violence.
McFadden uses a tool called "Solution Focus" which has been successfully used in New Zealand to help the native population, many of whom had been removed from their normal environment, to readjust. In terms of conflict resolution, it's designed to help rivals figure out what they want to do to resolve a conflict, determine what steps need to be taken and what the end result would look like.
"We have to be extremely careful. A lot depends on the situation. A young person dealing with a recent death (of a friend or a relative) makes a difference. In such a case, you can't just bring one or two people together, it must be the community. We will explore some of the outcomes. We get them to see different scenarios and this slows them down. We want a lasting effect for when we're not there. Basically, you're reformatting them to help them make a move that keeps them safe."
Shand McIntosh said active listening caters to one of people's most basic needs: to be understood.
"People become increasingly frustrated if others don't understand them," she said. "And young people will say to us that we've 'dissed' them. Active listening shows the person that I value and respect you if I take the time to listen."
"Kids feel it and in their eloquent way they will tell you that you 'dissed' them. What they really want is for you to listen and hear their point of view."
Shand McIntosh hopes that more people will become better listeners. "The problem with listening is that our generation's attitude is that listening doesn't need to be taught," she said. "Skills can only work for you as much as you develop them. Every practice has skills and principles. Yes, I can speak but if I don't practice and organize, if I go in front of people to give a speech, I likely will not do well."
Shand McIntosh said listening has applications that extend well beyond two people interacting verbally. For example, some U.S. companies have appointed chief listening officers who gather copious amounts of information from consumers, employees, competitors and other users. This information is then used to change and improve those companies. Shand McIntosh believes this is the first wave of a movement that will only continue to grow.
"At the end of the day, it's just people talking to people," she said.