Ward 7 Town Hall Meeting Searches for Answers to Violence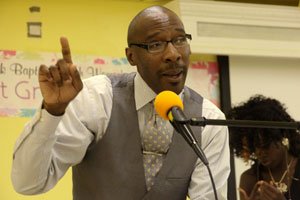 "Negative things happen when positive people do nothing." Ron Moten
First Rock Baptist Church on Alabama Avenue in Southeast was host to an emergency town hall meeting on Youth Violence and Gainful Employment on Monday, July 25 led by Ron Moten. Moten said he believed the city was in crisis and in desperate need of answers.
"Though employable, many of the young people in our communities are not being employed and violence in the city is being misjudged based on the murder rate," Moten said.
Dawn Moreland, R.N., Outreach Coordinator for Washington Hospital Center Trauma Prevention presented sobering statistics on violence in the District. The audience agreed that unemployment, anger, broken families, drugs, jealousy, and class issues along with discrimination are a direct cause of youth violence in the city.
According to data compiled by Washington Hospital Center from January 2006 through December 2010, the trauma unit admitted 4003 intentional injury victims. Of that number, 1,251 people were victims of assault, 1.314 victims of stab wounds, 1,438 victims of gun wounds. A further breakdown of the numbers reflects that of the 4003 intentional injuries, 923 victims died. For the age range of the victims, 17 were John/Jane Does and ages were unknown and bodies never identified, 1,738 victims were between the ages of 14 and 25, and 2,247 were 25 and older. In the area of race, 11 victims were undocumented, 37 Asian, 247 Caucasian, 942 Hispanic, and 2,763 African American.
Moreland detailed a program at Washington Hospital Center that offers a real perspective on what happens when bad choices are made. The program shows the attempt used to save a life and the instruments used in the process. Youth are then taken to the morgue and shown the bodies of the dead in close relation to the age of the youth. After the tour they are taken to an auditorium and given a graphic presentation of the trauma witnessed in the hospital's emergency room.
Ron Harris, an advocate for DC Jobs or Else, voiced his concern that opportunities for employment are not being given to those who desire work. African-American men seeking construction work are being told they need to be trained to move dirt from one spot to another or to put a flag up to halt a truck or stop traffic.
He spoke of the construction projects in southeast and the amount of money being dispensed for those projects without African American employees. It is Mr. Harris' belief that "as African Americans in DC we are being pushed to Prince Georges County. If you don't have a job you can't pay your rent and all of the safety net programs have been cut which means you can't get any kind of rent assistance" and so this "is telling us we have to get the hell out of here."
Our forefathers who were enslaved African Americans built the U.S. Capitol and people come from all around to marvel at this great sculpture and they weren't train and didn't go to a training center. Now, they are telling us that we can't build apartment buildings unless you go to training. I see hypocrisy in that. As long as we can do it for free it is okay but when we want a job with benefits -- a life sustaining job where I can feed my family, I need training. All I want is an opportunity."
Most notable at the Town Hall were the number of men who attended. Rev. Dr. William H. Bennett, II, a minister at Good Success Christian Church and Ministries in Ward 7, who will be announcing his candidacy for Ward 7 Council in September, said "Black men do care despite what is reflected in the media."
As for the solutions raised at this meeting, Prince Taylor, 42, says "people are hurting at the core of their being. Meetings like this is a starting point and the follow-up and follow-through must be intentional in order to bear the fruit."