Go Go Concert July 31 in DC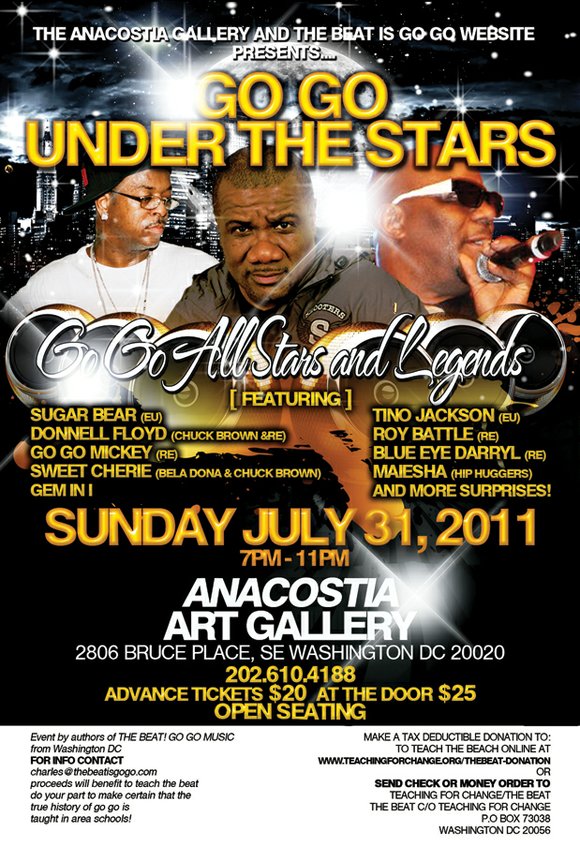 WASHINGTON, DC -- Come celebrate the "Go Go All Stars and Legends," concert featuring Sugar Bear (EU), Donnell Floyd (Chuck Brown & Rare Essence), Go Go Mickey (Rare Essence), Tino Jackson (EU), Roy Battle (Rare Essence), Blue Eyed (Rare Essence) and more.
The historic concert will raise funds for the "Teach the Beat," curriculum in D.C. area schools while also helping to develop high school lesson plans in history, art, social studies and math around Go-Go music using the book, "The Beat! Go-Go Music From Washington, DC," as a resource.
The project got underway about a year ago, and officials are currently enlisting District/Maryland/Virginia (DMV) teachers.
The concert takes place from 8 p.m. to 12 a.m., Sunday, July 31 at Anacostia Art Gallery & Boutique, located at 2806 Bruce Pl., Southeast D.C.
Advance tickets are $20 - $25 at the door. Open seating is available.
For more Information visit: CHARLES@THEBEATISGOGO.COM or contact "Go Go Under the Stars," 202-610-4188.