Hats Off to One of Dudley's Top 2011 Graduates
7/28/2011, 10:25 p.m.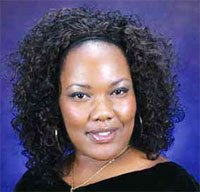 Kudos and congratulations to Ms. Venus Senior, a 2011 Graduate of Dudley's Beauty College in Washington DC. Senior is a Fort Washington, MD resident, independently raising four children; 3 girls and 1 boy.
Through dedication and determination, she purposed in her heart and mind to successfully complete the program in spite of unforeseen circumstances and difficulties. Ms Senior is well known through her clients at Dudley's for her infamous shampoos. Senior stated that it has not been easy balancing work, hair school, and parenting all at once, however she was determined to prove to her children that hard work pays off. Senior has been in hair school since 1998 and finally completed the program at Dudley's. Senior say's she is now on her way! She strongly believes that all products, in which she uses, should benefit her client's hair and skin.
Senior thanks her lead Instructor at Dudley's Ms. Shadonna Carpenter who she says provided her with a solid foundation of hair care. Such as talk to and listen to your clients, shift lay it down and comb, and statements as in reading is fundamental. Ms Carpenter has shared with her students that if you know your vocabulary you will always be one step ahead. Also Senior give's special thanks to Ms.Carolyn a former teacher of her's who also instilled in her "preparation prevents poor performance" These are things that Senior will never forget as she is well on her way to providing what she says will be a State of the Art experience for her clients!!