Jelani Jenkins Finds Success at Florida
Elton Hayes | 7/28/2011, 1:25 a.m.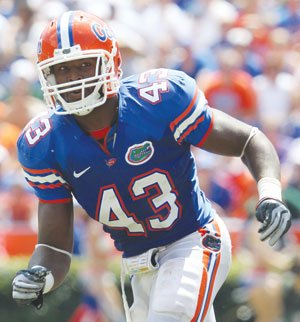 Good Counsel Graduate Poised for Big Season
Jelani Jenkins appears to be destined for greatness.
Last season, the 18-year-old started as a linebacker for the University of Florida Gators, made the Southeastern Conference Freshman All-American team, finished the season as Florida's second-leading tackler and also landed on the SEC freshman academic honor roll.
"You have to humble yourself and not expect anything to be given to you. Work hard for everything that you want. The amount of work that you put in will decide the results," Jenkins said.
This fall, Jenkins will take the reins as Florida's defensive leader. Thus far, he's already named to several 2011 award watch lists and some NFL scouts predict that he will be the best outside linebacker available if he decides to enter the 2012 NFL draft.
According to Maurice Jenkins, his son's talent was apparent at a young age.
He first spotted the competitive streak in his eight-year-old son at a Prince George's County skating rink.
"He must have fallen down about 100 times. It didn't matter how many times he fell, he brushed his little legs off and kept getting back up," the proud father said. "To me, that spoke to his character and determination."
At age 14, the University of Virginia offered the talented teen a full scholarship. By his senior year of high school, nearly 40 schools had offered him a full ride. Florida emerged victorious after a heavy vetting process by Jenkins and his parents.
"There were a lot of different colleges to choose from. So to narrow them down, we made a chart that listed academics, the school's record and about five other categories," Jenkins said. "We highlighted the schools that stood out and focused on them. Florida ended up at the top of the list."
Though Jenkins is a gifted athlete, academics are his first priority.
He attended Roots Activity Learning Center in Northeast, through 8th grade, and graduated from Our Lady of Good Counsel, in Olney, Md., in 2009 -- just two months after his 17th birthday. He graduated with a 3.92 grade point average and received the prestigious Watkins Award, given to five of the nation's finest scholar-athletes.
At Good Counsel, Jenkins proved to be as dominant on the football field as he was in the classroom, and received local and national recognition for his accomplishments. He was rated the nation's top linebacker prospect by multiple recruiting services and played in the prestigious Under Armour All-American game.
As if his plate wasn't full enough, Jenkins also became a fourth degree brown belt in karate when he was 11-years-old. In fact, his demeanor and style of play on the football field are a derivative of his karate training.
"Karate really had a lot to do with Jelani's discipline as a football player. Karate taught him discipline and fortitude," said Maurice Jenkins, 50.
Jenkins plans to major in kinesiology and intends to pursue a master's degree. His success at Florida hardly comes as a surprise to many. "He's an absolutely fantastic football player. With Jelani, you'll never have to worry about a character issue," said Good Counsel head coach Bob Miloy.
"He's a gentleman, he's quiet and humble. He was a good student and a high character guy. It was a pleasure coaching him," said Miloy.
No matter how famous and successful Jenkins becomes, Maurice Jenkins says he will always be there for his son as a father, and a friend.
"We've always had a close relationship. I laugh and joke with him, but when it comes time to give him something to think about, I will," the elder Jenkins said.
"I'll always challenge him to compete at a high level."
Sports is in Jelani Jenkins' blood. While his father was a power forward on his high school basketball team, his mother, Stephanie Hall, played basketball at Howard University. "My parents have been very supportive ever since I first put on a football helmet," Jenkins said. "They have been very influential in my life and they want what's best for me."