Essay Recalls Assault on Rosa Parks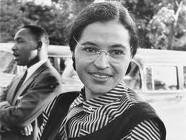 NEW YORK - Long before Rosa Parks was hailed as the "Mother of the Civil Rights Movement," she wrote a detailed and harrowing account of nearly being raped by a white neighbor who employed her as a housekeeper in 1931.
The six-page essay, written in her own hand many years after the incident, is among thousands of her personal items currently residing in the Manhattan warehouse and cramped offices of Guernsey's Auctioneers, which has been selected by a Michigan court to find an institution to buy and preserve the complete archive.
Civil rights historian Danielle McGuire said she had never before heard of the attempted rape of Parks and called the find among Parks' papers astounding.
It helps explain what triggered Parks' lifelong campaign against the ritualistic rape of black women by white men, said McGuire, whose recent book "At the Dark End of the Street" examines how economic intimidation and sexual violence were used to derail the freedom movement and how it went unpunished during the Jim Crow era.
"I thought it was because of the stories that she had heard. But this gives a much more personal context to that," said McGuire, an assistant professor of history at Wayne State University in Detroit. Her book recounts Parks' role in investigating for the NAACP the case of Recy Taylor, a young sharecropper raped by a group of white men in 1944.
Of her own experience, Parks wrote, "He offered me a drink of whiskey, which I promptly and vehemently refused. . He moved nearer to me and put his hand on my waist. I was very frightened by now."
"He liked me. .. he didn't want me to be lonely and would I be sweet to him. He had money to give me for accepting his attentions," she wrote.
"I was ready to die but give my consent never. Never, never."
Most people know the story of Parks, a black, middle-aged seamstress who refused to give up her seat to a white passenger on a bus in Montgomery, Ala., in 1955. Guernsey's President Arlan Ettinger said her personal papers reveal a much more complex individual, one who spent a lifetime fighting for racial equality and against the sexual violence of black women.
Parks is credited with inspiring the civil rights movement with her solitary act of defiance on Dec. 1, 1955, that led to the Supreme Court outlawing segregation on buses. She received the nation's two highest honors in her lifetime, the Presidential Medal of Freedom and the Congressional Gold Medal of Honor.
She died in 2005 at age 92, leaving the trove of personal correspondence, papers relating to her work for the Montgomery branch of the NAACP, tributes from presidents and world leaders, school books, family bibles, clothing, furniture and more _ about 8,000 items in all.
"It is wonderful and breathtaking," said Ettinger. "It will be up to the institution that ends up with it to make this material known to the world."
Proceeds from the sale will go to resolve a dispute over her estate, divided between her relatives and the Rosa and Raymond Parks Institute for Self Development that she created in 1987.