Gray Praised for Walmart Posture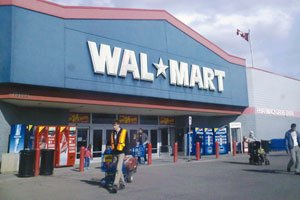 The mayor of the District of Columbia's recent conversation with officials of the nation's largest retailer has given hope to residents east of the Anacostia River that a store could come to the area sometime in near the future.
It has been widely reported in the media that D.C. Mayor Vincent Gray, who attended the International Council of Shopping Centers convention in Las Vegas last week, told officials of Wal-Mart Stores Inc., in essence, that if they do not build a store in the Skyland Shopping Center in Southeast that they may experience problems obtaining permits from the city. Gray, 68, said that the news reports were not entirely accurate.
"Those comments were made in jest," he said on Monday, May 29. "I think our deputy mayor for economic development, Victor Hoskins, said that those comments were made lightly. However, we made the best case that we could to them that putting a store in Skyland would be a good thing."
Walmart plans to build four stores in the city within the next two years. The stores are slated for East Capitol Street in Southeast, Georgia Avenue in Northwest, New Jersey Avenue in Northwest and New York Avenue in Northeast.
It's estimated that the stores could generate 400 construction and 1,200 store-based jobs and $10 million annually in sales tax revenue.
However, residents of Ward 8 in Southeast have long complained about their lack of shopping options. Many Southeast residents weren't pleased when Walmart made its initial announcement in 2010 about the four stores since none were in or close to Ward 8.
While Gray's statement to Walmart officials may have been in "jest", Southeast resident Norman Brown feels that the mayor did the right thing by saying what was on his mind.
"I feel Ward 8 is at a disadvantage," Brown, 49, said.
"A Walmart will bring jobs to the community and it will bring products that people can afford. If there was a store in Ward 8 or near here, we would not have to travel to other Walmarts."
The Skyland site has been a source of contention among residents of Southeast for years. City leaders have promised to develop the area located on Alabama Avenue and Naylor Roads in Southeast, but have fallen short, noting that in most cases, rejuvenating downtown was the priority.
Gray, a resident of Ward 7, has said that Skyland will be important in the city's development plans. Ward 8B03 Advisory Neighborhood Commission Chairman Darrell Gaston commended Gray for what he said to the Walmart officials.
"I felt that the voices east of the Anacostia River were being heard," Gaston, 24, said.
"I am glad that the mayor took a stand for us. A Walmart would present another opportunity east of the river."
Walmart officials released a statement on Skyland on its Web site that deals with its Washington, D.C. stores.
"For the last several months we have been evaluating sites across the entire city, with an emphasis on underserved communities east of the river," the statement said.
"Skyland is one of the sites that have been under consideration for some time and a place where we think Walmart can make a difference. We appreciate the mayor's strong conviction regarding this property."
The statement said that Walmart officials will "exercise our due diligence on Skyland to determine whether the site can come forward to fruition" after the approval process for the original four stores takes place.
Brown said that if Walmart comes to Skyland, he will probably shop there.
"I will shop at that Walmart," he said. "We can keep the money in the community."