Guest Columnist - Linda Tarrant-Reid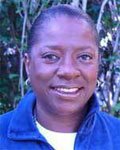 A Garden Changes History
Planting season has arrived in the northeast and folks are so excited to have an excuse to be outdoors after hibernating inside for what, I believe, was one of the longest and coldest winters that I've experienced in quite a while. Garden centers are jam-packed with veteran gardeners and wannabe gardeners pushing shopping carts down aisle after aisle of big box stores searching for the right compost, mulch, seedlings, plants, and all the tools they need to prep the soil to produce an eye-popping, bountiful garden.
In case you hadn't heard, gardens are making a comeback, especially vegetable gardens, due in no small part to our fabulous First Lady Michelle Obama's Kitchen Garden on the South Lawn of the White House. Started in 2009, it is the first vegetable garden at the Victory Gardens sprouted in window boxes, backyards, vacant lots, parks, open fields and schoolyards to pick up the slack caused by food shortages during World War I and II. Scarcity of food, at home and in Europe, prompted the federal government to mount a promotional blitz instructing citizens to "grow-your-own food" as a patriotic act. The national marketing campaign educated the American public about planting and cultivating crops and canning and preserving leftover vegetables and fruits to use during the winter months. The shortages spurred a movement that promoted self-sufficiency and cost-cutting strategies for families and the government.
Although we entered World War II almost 70 years ago, Americans are still facing challenges in a sputtering economy in the areas of employment, health care, economic development, race relations, and family, especially among African Americans. The First Lady is tackling two of these challenges with her Let's Move! Initiative launched in 2010. According to its Web site, the program "is dedicated to solving the challenge of childhood obesity within a generation, so that children born today will grow up healthier and able to pursue their dreams." Let's Move! grew out of discussions about proper nutrition and encourages children to increase their physical activity and make healthy eating choices. In a report from the Centers for Disease Control and Prevention, the data shows that childhood obesity has tripled the past 30 years, particularly among African American and Hispanic children.
The Community Gardens Program of New York State's Department of Agriculture & Markets lists 1,000 registered or permitted community gardens throughout the state in their database. A report entitled "Community Garden Survey, New York City, Results 2009/2010" conducted by GrowNYC, an environmental agency, and GreenThumb, a program that supports community gardens, concludes that there are nearly 500 community gardens in New York City, not counting gardens located at schools and housing projects and in backyards. Approximately 80 of the gardens in NYC grow food, with nearly 66 of the community gardens [using] compost. The most popular vegetables and herbs grown in NYC community gardens, according to the survey, are tomatoes, peppers, beans, eggplants, collard greens, basil, mint, parsley and thyme.
Mrs. Obama has, for the past three seasons, invited local school children to the White House to help her plant and harvest the crops in her kitchen garden, making the occasion a teachable moment about good nutrition and healthy eating. Mrs. Obama hopes that by adopting an active lifestyle, making nutritious food choices, and growing your own fruits and vegetables, these strategies will impact the health of family members for generations.
I recently became involved in creating a community garden. It is a project that caps a yearlong commemoration of the 1961 Taylor Case, the first desegregation case filed in the North. The garden is situated on the site of the former Lincoln Elementary School, which was at the center of the case, and was torn down in 1963 because of the desegregation order imposed by the court ruling.
The repurposing of part of this historic site, now a park, into an organic, sustainable community garden is truly about rebirth. It's also about the legacy of the land and a remembrance of the children whose parents had the courage to fight the system and win, enabling their children to receive an equal education. So, you see, a garden can change history - just like Eleanor Roosevelt did with her Victory Garden; like Michelle Obama is doing with her White House Kitchen Garden; and just like my community is doing by honoring a group of people who fought for their civil rights with a commemorative garden.