Hundreds Flock to Petworth, Howard University Health Day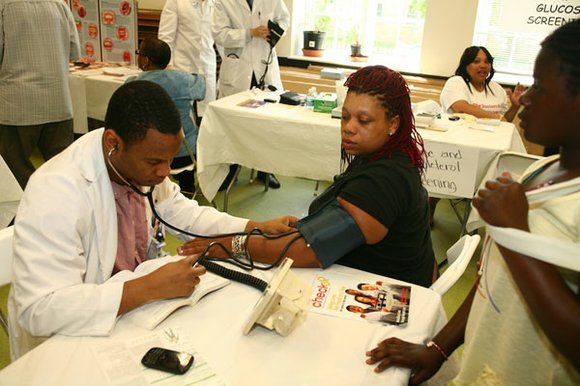 With smoke curling skyward from 5701 Georgia Avenue and a bright red fire truck parked outside, neighbors might have assumed a fire rescue was underway at the Emery Recreation Center.
But the smoke was from healthy food - squash, carrots and other veggies - being grilled during Safeway's cooking demonstrations, and the fire truck and fire department were on hand to remind area residents how to stay safe in their home.
It was just a small part of the Petworth Health Wellness Day in and outside Emery Recreation Center in northwest Washington.
More than 400 residents from Petworth and surrounding communities poured into the recreation center Saturday for expert advice on diet, exercise and wellness and to receive free testing and screenings from Howard University Hospital clinicians on various health concerns.
The Ward 4 Advisory Neighborhood Commission and Howard University sponsored the event. United Health Care, DC Department of Parks and Recreation and many others groups helped organize the day, and ANC Commissioner Lisa Colbert spearheaded the event.
"It was really a great day," Colbert said. "Before we could even open the doors at 10, people were lined up outside. So, there was obviously a need. We were able to provide health services to scores of people who otherwise might not have been able to afford them."
"But it was also a joyous day, with lots of fun."
People gathered around the Safeway grill located outside the center for lessons on how to grill every day food -- chicken, squash, carrots, egg pant and zucchini - healthier and to taste the samples afterward.
"We were really happy to participate," said Safeway manager Matthew Brown. "We are very thankful for the opportunity to encourage the community to eat healthier. I learned a few things myself."
Howard University doctors and health care clinicians performed screenings and testing for a variety of medical concerns, including diabetes, blood pressure, HIV, prostate cancer, hearing and sickle cell and many others. Pharmacists and nutritionists also answered drug and diet questions.
"We are thrilled that we could provide this service to the community," said Dr. Wayne Frederick, director of the Howard University Cancer Center and head of the Faculty Practice Plan. "One of our goals is to educate and engage the community on the importance of their health."
Frederick added that he urges the attendees follow up with a primary care physician.
Other services included on-site massage and reflexology, yoga and cardio blast classes as well as healthy food demonstrations from a local farmer's market.
Meanwhile, social services agencies provided multi-cultural guidance on geriatric, pediatric and family health.
There were lots of fun, prizes and games. Fonzie the clown did a magic show, captivating not the just the children getting their faces painted, but adults as well.
CVS provided some of the giveaways and winners of the hoola hoop contest, fitness obstacle course and raffle walked away with fitness equipment and gift cards.
"The success of this health awareness day really showed the need for more," Colbert said. "This may have just opened the door to an annual event, and I look forward to seeing it grow."