The U.S. Dream Academy Celebrates 10th Anniversary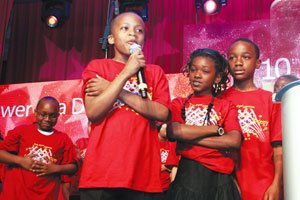 The U.S. Dream Academy celebrated its 10th anniversary May 25 at the Mandarin Oriental Hotel, with a host of supporters from around the country gathered to honor four amazing individuals for their outstanding support to the academy as well as the community.
The event began with a welcoming by the founder and CEO of the U.S. Dream Academy, Whintley Phipps.
"Tonight marks a decade of celebrations," announced Phipps. "In my mind, a decade of nothing but the Grace of God! Our dream has flourished. Our roots have grown. Our mission has matured and America knows the U.S. Dream Academy is making change real."
The U.S. Dream Academy's after school programs are set up all over the United States. They build their success stories on three thematic pillars using skill building, character building, and dream building. The Academy offers services including one-on-one sessions with carefully matched mentors to at risk children and children with incarcerated parents.
Honoree Shelia C. Johnson, an entrepreneur and philanthropist whose accomplishments span the arenas of sports, the arts, and hospitality, took home the biggest award of the night, the Legacy Award. Other award recipients include the 18th Surgeon General of the United States Public Health Service, Regina M. Benjamin, who took home the Martin Luther King, Jr. Service award, Delbert W. Baker, former president of Oakland University, with the President's Award and funnyman-actor, Robert Townsend, who also received a President's Award.
"I am truly blessed to do what I do," said Townsend. "And as I write the next chapter of my life I will bring my 'A' game like never before, with more zest, more passion, more vision, and more love."
Once the food and award speeches came to a close, Phipps along with celebrated entertainer, Patti LaBelle, rocked the crowd with a duet. Whether a child or an adult, the night, was truly one for dreaming.
ZCAPTION GOES HERE -Courtesy Photo