Forced Into Darkness: Unearthing Attacks on Black Womanhood
6/8/2011, 10:10 p.m.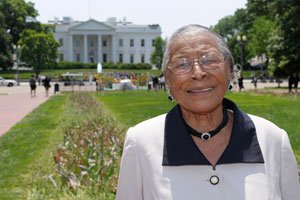 Perhaps Faulkner had more insight than previously noted. It is no accident that as the nation takes on a bipolar schism and posture with regard to Black women that stories of their collective denigration and sexual debasement take center stage. Popular culture has seen the rise of an African-American First Lady, whose public persona exemplifies grace and femininity, alongside a scourge of barely-clad and foul-mouthed pop culture female doppelgangers, whose cultural currency is void of value.
McGuire writes:
The kidnapping and rape of Recy Taylor was not unusual in the segregated South. The sexual exploitation of black women by white men had its roots in slavery, but continued, often unpunished, through the better part of the twentieth century. As Reconstruction collapsed and Jim Crow arose, white men abducted and assaulted black women with alarming regularity. White men lured black women and girls away from home with promises of steady work and better wages; attacked them on the job; abducted them at gun-point while traveling to or from home, work or church; raped them as a form of retribution or to enforce rules of racial and economic hierarchy; sexually humiliated and assaulted them on streetcars and buses, in taxi cabs and trains, and other public spaces.
McGuire goes a long way to openly discuss what Black women activists have only brushed upon for decades. Predecessors like Yale University scholar Hazel Carby, have documented the reconstruction of Black womanhood for decades. Pointing to a code of standards supporting the "unrapeability" of Black women, Carby demonstrates just how fragile, unprotected, and stereotypical mainstream beliefs about Black womanhood remain.
Put plainly, Black women are so hypersexual -- in their dress (revealing too much), in their gestures, in their dance, speech, and overall demeanor - that when one levels a charge of rape, it's believed to be a fallacy. Either she forced the men to do so by enticing them beyond reason, or she was paid money for her services.
McGuire's work is painful to read, but necessary. The statistics come with names and faces, including Civil Rights activist Fannie Lou Hamer, whose grandmother bore 23 children; 20 of whom were the products of rape by white men.
Like a long-forgotten scene from the movie, Liberation of L.B. Jones, where sheriff deputies rape a young Black wife when she inquires about her husband's release from prison, most Black female victims, make attempts at recovering their dignity, remain quiet and survive. McGuire's work helps restore some of their respectability.