Guest Columnist - By Lee Saunders -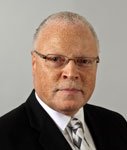 Your Take: Threat to Blacks in the Public Sector
Radical conservative politicians want to slash city, county and state jobs -- and undercut the economic security of African-American families, says this union official.
When I was growing up in Cleveland, some of the most respected people in my neighborhood were the folks who worked for the city, county or state. My father was a city bus driver who took great pride in getting people safely to and from their jobs every day. My mother was a community college teacher who loved preparing her students for success.
It turns out that my family was far from unique: Twenty-one percent of all black workers are public employees, making the public sector the largest employer of black workers, according to a recent University of California, Berkeley study (pdf). The wages that African Americans earn in the public sector are higher than those we earn in other industries. Furthermore, there is less wage inequality between African-American workers and nonblack workers in the public sector than in other industries.
The author of the study, Steven Pitts of Berkeley's Center for Labor Research and Education, emphasizes that his analysis is based on the national workforce. In cities where African Americans are a larger proportion of the population, "the importance of the public sector to black employment prospects" is even greater.
Both of my parents were active union members because they knew that the labor-rights and civil rights movements were the way for African Americans to achieve upward mobility and equality. In fact, labor unions and civil rights organizations have worked hand in hand in just about every fight for equality and economic justice that our nation has known.
When Dr. Martin Luther King Jr. was assassinated, he was in Memphis, Tenn., on behalf of 1,300 sanitation workers, members of AFSCME Local 1733. They were on strike for more than a bigger paycheck; as their "I am a man" signs made clear, they wanted respect for the work they did. King stood with them because he recognized that freedom requires that workers have a voice, the ability to provide for their families and the power to shape their destinies.
Not only do public-sector jobs mean economic security for black families; they are also jobs that are vitally important to communities across this nation. Whether they are teachers, bus drivers, sanitation workers, snowplow operators, emergency medical technicians, nurses or librarians, public employees perform jobs that towns and cities of every size and description depend on. Their work strengthens neighborhoods and supports basic American values like looking out for one another, preparing our children for the future and ensuring that there is a safety net for the most vulnerable members of our country.
But if you believe the radical governors and legislators in Wisconsin, Ohio, Florida and other states, many of these jobs are unnecessary, and the workers who provide them are "coddled" because they have the right to a voice on the job. Since January 2009, state and local governments have laid off 429,000 workers, and these layoffs have already had dire effects on families across the country.