Councilmember Barry Pushes Increased Jobs for D.C. Residents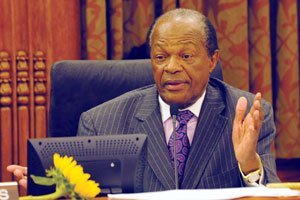 For the last few weeks, Councilmember Marion Barry has demanded that First Vehicle Services, a company that has contracted with the District, comply with the District's First Source laws and 35% local and small business participation requirements.
"For the last 4 years this company has not been consistently in compliance with District hiring and LSDBE participation requirements. Yet it has been able to receive over $18 million in contract awards with the District. This is outrageous," Barry said.
"I immediately filed a disapproval resolution on this contract when it came before the Council and today I was able to obtain a commitment from the company that going forward it would go above and beyond to ensure that it is in compliance with these requirements. That is a victory for all District residents and District businesses," Barry said further.
On Friday, June 3, Barry obtained a letter of commitment from the company stating that it is 'totally committed to achieving and exceeding the minimum target of 35% LSDBE participation' and has arranged regular meetings with DSLBD Director, Antonio Hunter, to discuss how his agency can be more effective in helping First Vehicle Services achieve its goals.'
In addition, Barry requested that the company commit to not just maintaining compliance with the 51% new hire requirement, but also to go above the requirement and ensure that District employees receive over 51% of total wages of all new hires. In the letter, the company states that it will commit to achieving that goal.
"Requiring the company to not only continue hiring District employees, but to ensure that these employees are paid 51% of all wages for new hires will assure not just jobs for District residents, but also jobs at a decent wage. In so many instances we see companies bringing in their own workforce from Maryland or Virginia while hiring only a handful of D.C. residents and paying them at the lowest wages possible. This must end. The government has to do better and improve the First Source law. In the meantime, I will be a diligent watchdog to ensure that companies that do business with the District are in full compliance with the law," Barry said.
First Vehicle Services has been awarded a contract to provide fleet management and preventative maintenance to the Metropolitan Police Department and the Department of Real Estate Services since 2002. Councilmember Barry placed a disapproval resolution on the contract when the modification to exercise the second option year recently came before the Council. A joint oversight hearing was held by the Committee on Government Operations and the Committee on the Judiciary to ascertain why the company had not been in compliance with the District's First Source hiring laws and 35% local and small business participation requirements.
During the oversight hearing it was revealed that First Vehicle Services had not performed any of the requirements and commitments they made during the previous oversight hearing to increase District resident employees as well as their use of local businesses in order to meet the 35% requirement. The company had held only two job fairs and had not maintained consistent meetings and communications with agency officials within the Office of Contract and Procurement, the Department of Employment Services, and the Department of Small, Local, and Disadvantage Businesses.