Gray Goes 'Shopping' for Business in Las Vegas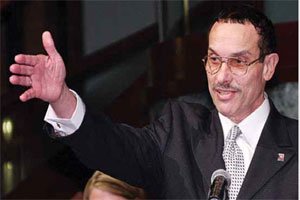 Wegmans, Targeted for Walter Reed Site
The mayor of the District of Columbia led a delegation of government and business leaders to an international convention of retailers to showcase what the District has to offer.
D.C. Mayor Vincent Gray attended the International Council of Shopping Centers (ICSC) convention in Las Vegas with several members of the D.C. Council, the Deputy Mayor of Economic Development and Planning Victor Hoskins and several District business leaders. The mayor, who stayed Mon., May 23 and Tue., May 24, said that this was a must-attend event for city leaders.
"D.C. has participated in this for more than a decade," Gray, 68, said. "I have attended this convention for the past 4-to-5 years. The city had an exhibit for retailers to look at and I [thought] it was magnificent. The exhibit showed what we do in the city."
The ICSC convention is little known to the average District resident, but to city leaders, it's an annual event that many make a point to attend. Local politicians and business leaders from across the country present their municipalities to hundreds of retailers who gather in Las Vegas from all corners of the world. In turn, retailers have an opportunity to meet leaders of these municipalities and seek new markets for their businesses.
The District has received a lot of attention, Gray said.
"D.C. is a hot real estate market," he said. "Our team had 300 meetings with retailers such as CVS, Costco, Wegmans, Lowe's and Whole Foods Markets. We also met with the leaders of franchises such as McDonald's and Ace Hardware."
Hoskins, 53, said that Gray made it a point to include D.C. Council members in discussions with retailers. D.C. Council members who attended the convention included Jack Evans (D-Ward 2), Harry Thomas (D-Ward 5), Yvette Alexander (D-Ward 7), Vincent Orange (D-At-Large), and Michael Brown (I-At-Large).
Hoskins used Alexander, 49, and Orange, 54, as examples of D.C. Council members' participation.
"Alexander was very passionate about bringing retailers to Ward 7 and Orange talked about the importance of stores coming to the city at large," he said. "There was a lot of camaraderie, openness and transparency. We had not seen that in recent years."
Orange agreed with Hoskins' assessment.
"The mayor and D.C. Council members presented One City," he said. "The mayor spoke to the retailers and the council members spoke. There was strength and harmony that was there that has not been there recently."
The District delegation has decided to court Wegmans, Hoskins said.
"We want to bring a Wegmans to the city and bring it to the Walter Reed site in Northwest," he said.
"We visited the Wegmans in Prince George's County earlier this year and we liked what we saw. Plus, District residents have asked us when will a Wegmans come to the city?"
Gray said that in addition to "shopping" the Walter Reed site, the McMillan Reservoir in Northwest, St. Elizabeths in Southeast and Poplar Point in Southeast were also discussed with retailers.
The mayor said that while discussions with retailers took place, "no deals were consummated."
John Nyarku, a resident of Northwest, said he's ecstatic that Gray traveled to Las Vegas to promote the District.
"It is good that the mayor is going out to find business for the city," Nyarku, 56, said. "He will expand the economy and bring jobs to the citizens. I am glad that he went there to see what is out there for the city."
Orange said by attending the convention, the District will be viable in the business community.
"Our visit to Las Vegas reinforces that the District is open for business," he said.