Baker Requests Feasibility Study on Potential Site for Redskins Headquarters, Training Center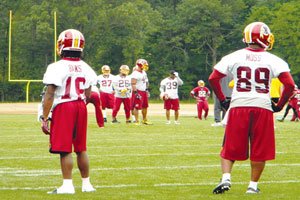 CENTER UPPER MARLBORO, MD - On May 31, 2011, the Prince George's County government, in a letter to the Maryland Stadium Authority, requested a feasibility study for a potential headquarters and training facility for the Washington Redskins on a parcel of land adjacent to Bowie State University in Bowie, MD.
"Prince George's County has been proud to host the players and fans of the Washington Redskins at FedEx Field," said County Executive Rushern L. Baker, III. "We are now expressing an interest in becoming the permanent headquarters of this much beloved and storied franchise. With our central location in the region and the Redskins existing facilities at FedEx Field in Landover, we believe that Prince George's County offers an excellent choice for the Redskins' management, staff, coaches, and players to work and live."
The proposed site is land currently owned by the County located off of MD Rt. 197 and Lemons Bridge Road. This location is near the existing Bowie State MARC station, approximately 10 miles away from FedEx Field. In the original agreement that brought the Washington Redskins and FedEx Field to Prince George's County, a provision was included to give the County the right of first refusal should the franchise decide to relocate its headquarters from its current location in Ashburn, VA.
Delegate Jay Walker (D-26) originally approached the County about the proposal and officials followed up by raising the issue with the Redskins. The Baker Administration is also working with Prince George's Council Chair Ingrid M. Turner, whose council district encompasses the studied site. County Executive Baker, Chair Turner, and Del. Walker plan to work with and garner community, business, and resident support of this study.
Council Chair Ingrid M. Turner says such a move would be great for the local economy. "Given the growth our County has experienced as home to FedEx Field, there is no doubt that moving the Redskins' team headquarters and training facilities to Prince George's County would significantly boost economic development and job creation in our County. My colleagues and I would welcome this move with open arms and this study will help quantify just how much of a "win-win" situation this move would be both for the County and the Redskins' organization."
"This represents a tremendous opportunity for Prince George's County and the State of Maryland when you consider bringing 200 jobs into the County and the State," said Walker. "This goes along with our vision of Prince George's County to be a wonderful place to live, work, and play."
Prince George's County has committed one third of the estimated $25,000 cost of this study and expects a matching amount from the State of Maryland Department of Business and Economic Development. (DBED) and the Maryland Stadium Authority. A feasibility study is an analysis of the viability of an idea. The study focuses on helping answer the essential question of "should we proceed with the proposed project idea?" All activities of the study are directed toward helping answer this question.