Designing Women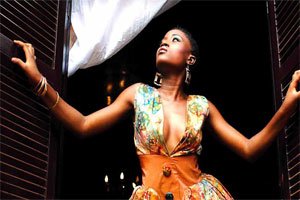 Black Female Designers Bring Innovation, Africa, and Femininity Into Focus
Diana Ross' celebrated performance as Tracy Chambers - a struggling fashion designer in the 1975 film Mahogany - has become a tableau of the fashion industry for millions of up and coming Black designers. The character tries hustling style concepts to Chicago designers and retailers to no avail, and finally travels to Rome as a fashion model, her runway celebrity segue ways into couture design fame.
Fashionista standards have changed little since the film premiered - the industry still applauds wafer-thin, white, and male design concepts, though its fascination with exotic men and women of color persists.
Like Chambers, Lauren Nicole Taylor is no stranger to fashion. In fact, her fashion sense can be described as innate. Born and reared in Mississippi, Taylor also lived for several years in California, where she said she was able to sketch out clothing designs that fused the natural elements of California's mountains and coastlines, with its glitz and glamour. But Mississippi rather than Hollywood cleared the road to designer dreams.
"Four women at my church -- New Horizon's taught me how to sew. Some time later a fashion extravaganza was announced for the area and J. Bolen, a celebrity fashion designer challenged me to have ten designs ready for it. This was in November and I had four to six months to have everything ready. I had no idea how to make it all come together, but the ladies at the church encouraged me and actually sewed some of the designs for me," Taylor said.
"To see those drawings come to life on the runway, was very emotional. Think about the number of people who draw and sketch. To see and hear the awe of the audience, was amazing," Taylor said.
Fashion writer Kai Leicester said she fell in love with Taylor's designs at first glance.
"Taylor has an eye for innovative design concepts that are ultra feminine and classic. She understands how a woman's body is supposed to look in clothing and designs to accentuate the natural curves and extensions of the body," Leicester said.
Taylor recently added a few celebrity clients to her list, including Brittney Dear, who wore LarureNicole during the BET gospel competition show Sunday Best.
The Tougaloo College graduate credits her faith in God and a prayerful church family with both her success and ability to remain focused. As she works on her Fall line, Taylor said she looks forward to manufacturing her own clothes and seeing them in boutiques and major retailers across the globe in the near future.
"My relationship with God has kept me motivated, grateful and humbled. I have prayed incessantly and have a great church family who help and encourage me. They remind me that it is a process and that I should always remember where I am going - and where prayer can take me," Taylor said.
Also, among the most promising new models-turned designers, are D.C.-bred identical twins Ayaan and Idyl Mohallim. Born in Ethiopia, Ayaan and Idyl launched their fashion line, Mataano, which means "twins" in Somali, in 2008. Their clothes have been touted as innovative and bold by critics; while the designers themselves, see more than simply an opportunity to show off their clothing in the industry.