Thomas Receives Mixed Support in Ward 5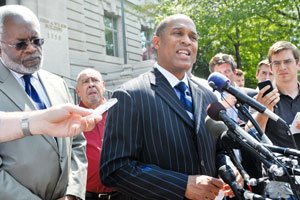 Beleaguered D.C. Council member Harry Thomas, Jr. faces formidable legal problems but a survey of some Ward 5 residents found support for him and the desire that the investigative process be fair and transparent.
Thomas (D-Ward 5), is accused of taking more than $300,000 in funds earmarked by the D.C. Council in June 2007 for youth sports programs. D.C. Attorney General Irvin Nathan filed a civil complaint on Monday, June 6. The complaint also alleges that Thomas misused $80,000 in private donations to pay for personal travel to Las Vegas, Nev. and Pebble Beach, Fla., and to purchase an expensive SUV.
Thomas, 50, has denied any wrong doing.
Despite the charges, Michelle Bundy said she supports her representative.
"I support Councilman Thomas," Bundy, a Northeast resident, said. "All citizens are innocent until proven guilty beyond a reasonable doubt. Also, I personally believe that the councilman provides excellent representation for his constituents."
Bundy said she sympathizes with Thomas, saying, "my prayers are with him."
Thomas relinquished his responsibilities as Chairman of the powerful Committee on Economic Development on Wed., June 8. This was in response to increasing pressure from fellow D.C. Council members. D.C. Council Chairman Kwame Brown announced that the committee's functions will be placed under the Committee of the Whole until a decision is made on who will lead the committee after the D.C. Council's summer recess.
Thomas has represented Ward 5 on the D.C. Council since 2007. His father, Harry Thomas Sr., served Ward 5 from 1987-1999.
Thomas Sr. was defeated for re-election in 1998 by Vincent Orange, who served from 1999-2007. Orange, 53, was recently elected to an at-large seat on the D.C. Council in April.
Anthony Brown, a resident of Northeast, said Thomas is just like his father.
"Harry Thomas is a good guy," Brown, 53, said. "I knew his dad and he was a good person, too. He is a good people person."
Brown said Thomas plays softball with constituents and attends church in the ward. He says that "Harry is a man of integrity" and questions the allegations against him.
"Harry would not do anything to mess with something that is supposed to be for the kids and the community," he said.
Timothy Day, a Republican who lost to Thomas in the November 2010 general election, disagrees.
"All the money Mr. Thomas took was suppose to go to Ward 5 kids but it didn't," Day, 40, said. "All of these charges could easily go away if Mr. Thomas disclosed where the money went but he can't and won't because he spent it on golf trips, hotels and his SUV."
Day said that Thomas stepping down from the committee chairmanship is not enough. He said Thomas should resign from the D.C. Council.
"Thomas should step down," he said. "It would be good for the city, Ward 5 and his family. It is unethical that he still collects $125,000 salary and pension while the city is suing him for corruption charges."
Albrette "Gigi" Ransom, an advisory neighborhood commissioner who represents district 5C12, said that she, like Bundy, supports Thomas.
"I think he should have the chance to prove himself in court," Ransom, 50, said. "I hope that he will be judged by a jury of his peers. I will support him until the facts surrounding the case prove otherwise."
In addition to the actions of the D.C. Attorney General, the FBI and the District of Columbia U.S. Attorney's Office have also confirmed that Thomas is under investigation.
Thomas Sr. was known for his emphasis on constituent services and the younger Thomas has tried to follow in his father's footsteps.
Ransom said despite what is going on with Thomas, there's work to be done.
"Until the allegations are proven, he is still our council member," she said.