United Black Fund Honors Students, Community Leaders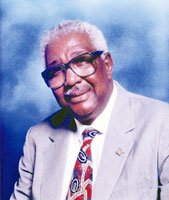 About 500 patrons and supporters of the United Black Fund gathered at the Armour J. Blackburn Center in Northwest to attend an annual luncheon to raise scholarship money for needy students.
Participants at the Calvin and Wilhelmina Rolark Scholarship Luncheon on Friday, June 9 on the grounds of Howard University, also honored those whose work is making a critical difference in the black community, said several participants.
Entitled, "Capstone and Cornerstone: Howard University and the African American Community," the event emphasized the relationship and connections between Howard University and the broader community. In order for the black community to be properly served, several speakers said, there needs to be greater interaction and a deepening of the already strong connections between the university and the community it serves.
"I thought it was one of the most important luncheons we've had," said United Black Fund President and CEO Barry LeNoir. "It reconnected UBF and this great university. Our organizations are working in the backstreets of this city and Howard has the human intellect, strategic acumen and information that we need. The people on the ground floor need to connect to those in the university. In that I think we achieved our mission.
LeNoir, who assumed leadership of United Black Fund in 2006 shortly after Wilhemina Rolark's death, said he's extremely pleased with the response he has received from university officials. The next step, he said, is to plan workshops, seminars and other meetings where both sides can find common ground and determine the best ways to partner and cooperate on the raft of issues buffeting the black community.
The organization awarded four students $1,500 scholarships each for academic excellence. They are Ashley Thornton of Choice Academy; Shelunda Hunter of Laurel High School; Desiree Coleman of Spingarn Senior High School and Ricardo Bell of Dunbar High School. In addition, UBF named 16 winners of the 2011 'I Love Life and I Want to Live' essay and oratorical competitions and bestowed first-through third-place awards to 15 children and two classes for songs and posters on the same theme.
In addition, UBF named William C. Smith + Company the 2011 Corporate Sponsor of the Year for donating $500,000 to develop the William Lockridge Baseball Field, a youth park in Ward 8. Six individuals and one organization accepted UBF's 'People's Champion Awards', while Washington Informer Publisher Denise Rolark Barnes was surprised with the Calvin W. Rolark Humanitarian Award at the close of the luncheon.
Dr. Calvin W. Rolark, Sr., UBF founder and president, organized the fund in 1969 as a self-help instrument for blacks to take care of their responsibilities and needs, as well as help build independence and self-sufficiency in the nation's capital. His wife Wilhemina, an attorney, lawmaker, and fellow civil rights activist, stood with him and assisted in the building of the organization.
Today, UBF is an umbrella of more than 90 member agencies which it provides with technical, programmatic and financial support so that the agencies can offer services and a safety net for underserved families, individuals and children in the District and nationally.