United Black Fund Honors Students, Community Leaders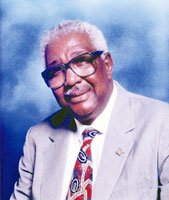 D.C. Delegate Eleanor Holmes Norton (D-D.C.) reiterated LeNoir's statements by also highlighting the important role the United Black Fund plays.Andrea Rutherford, 13 from Jefferson Junior High School, was honored as winner of the I Love Life, I Want to Live essay contest. / Photo by Khalid Naji-Allah
"You should see what some in Congress are doing to the least of those," she said during her short stay at the event. "They are gutting programs, cutting the money to pay for these programs but voting for tax cuts for the rich. UBF, we need you more than ever."
Norton also chided Congress for its penchant to attach language to the District's annual budget bills that impose sometimes onerous constraints on city laws or restricts the use of money that is raised locally.
"You shouldn't have to be arrested to have to assert your citizenship rights," she added.
LeNoir said he was excited about the potential of the Howard-UBF partnership.
"Howard has to be the school of the people," he said. "Our connection has many purposes. We cannot succeed as intellectual people unless we are linked to, and have access to, the best people with the best experience. We have to match the empirical with the practical."
"I'm glad that [Associate Provost for Academic Affairs Dr.] Alvin Thornton came. I know he took the message back to the president."
Denise Rolark Barnes was surprised with the Calvin W. Rolark Humanitarian Award for her dedication to continuing her father and step-mother's legacy. Rolark-Barnes (center) poses with husband Lafayette Barnes IV, and Barry Lenoir. / Photo by Khalid Naji-Allah.
And at a time when social media and the Internet are changing so many facets of society, UBF must find ways to take full advantage of the Internet, LeNoir said. He said UBF officials are also looking at a scenario that would incorporate Howard's Law School and its Sociology and Psychology departments as well.
It's no accident that so many of the luncheon's guests have ties to Howard, LeNoir said. Among them: Norton; Prince George's County Executive Rushern L. Baker, III; D.C. Council member Yvette Alexander (D-Ward 7); Honoree James Counts Early; and Washington Informer Publisher Denise Rolark Barnes.
As the African American community grapples with an explosion of sexually transmitted diseases among 12-, 13-, and 14-year-olds; the scourge of drugs and violence and the inability of black parents to protect their children from adult and sexually explicit material on the radio, television and the movies, partnerships such as LeNoir envisions with Howard take on added currency.
"We want to tap into that good spirit. It's important for this university to have this experience," LeNoir explained. "Our focus is local. We can change this community if we can control the message. Every day, we have a number of radio stations in the city that discuss the issues of the day, but Howard has a comedian on in the mornings talking about relationships. Howard should be leading the message and they're not."