First Lady and KaBOOM Build New Southeast Playground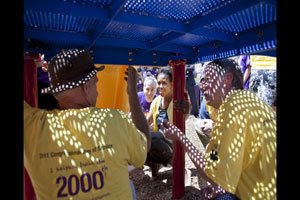 First Lady Michelle Obama joined more than 400 volunteers to erect a swing set and assemble a playground Wed., June 15 at Imagine Southeast Public Charter School, in Anacostia. The first lady was the guest of honor as KaBOOM!, a nonprofit that gives children opportunities for unstructured outdoor play, constructed the 2,000th playground in its 15-year history.

"This is a very cool experience," Obama said. "It really is a source of pride to be here today to celebrate the 2,000th build."

The first lady has spearheaded a campaign to get the nation's children in better shape and combat childhood obesity through her Let's Move! program.

"KaBOOM! has built playgrounds throughout the area, but it was really great to see the First Lady come out and help build this one," Southeast resident KeAndre Johnson said.

"A lot of times the kids over here believe they are cut off from the city and the powers that be, so to have our very own first lady come here and work up a sweat pouring concrete and raking mulch is fantastic," he said.

KaBOOM! advocates for play as a critical part of children's physical, intellectual and emotional development. The group works primarily in low-income neighborhoods that lack playgrounds within walking distance, and community members are asked to raise some money for the project and participate in the construction. The playgrounds are built in a single day.

"Play is on the decline in the United States," KaBOOM! founder Darell Hammond said. "Kids are getting less and less of it, both in recess and at parks and playgrounds."

Imagine Southeast Public Charter School was chosen in part because the group wanted to celebrate its 2,000th project in Washington, where it is headquartered, said Karen Duncan, an adviser to KaBOOM! and the wife of Education Secretary Arne Duncan.

The group gets about 14,000 requests a year for new playgrounds, and Imagine Southeast stood out because its principal and parents were so enthusiastic about the project, Karen Duncan said.

The 4,000-square-foot playground cost $195,000 and was funded by the Knight Foundation, a charitable entity founded by the former owners of the Knight Ridder media company.