Keeping Cool in the Searing Heat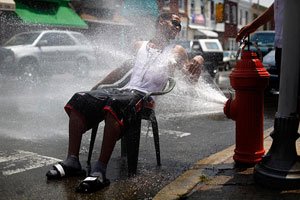 Washington, D.C. is still at least six weeks away from the dog days of summer, but last week the region got a taste of what's in store.

On Thursday, June 9, temperatures soared to 102 degrees which represented the peak temperature for that week. District officials rushed into action and put in motion a plan to provide relief for seniors, tourists and anyone struggling to deal the energy-sapping heat.

"We normally open cooling centers after heat alerts," said Reggie Sanders, public information officer for the Department of Human Services (DHS). "We work directly with libraries, Parks and Recreation and other agencies so that people can get out of the heat, get some water and be in a cool place until they can go home later. This includes residents and people who are visiting the city. It's a way to refresh them since it's gotten pretty hot lately."

The heat index is a measurement of the air temperature in relation to the relative humidity, used as an indicator of the perceived temperature. He also said the alert kicks in whenever the temperature is 95 degrees Fahrenheit or above.

The District of Columbia government through the Homeland Security and Emergency Management Agency (HSEMA) will implement the District Heat Emergency Plan when the temperature or heat index reaches 95. Extreme heat causes significant impact to individuals residing in public housing, senior facilities, senior centers and homeless shelters throughout the city.

Pete Piringer, D.C. Fire and Emergency Medical Services (EMS) spokesman suggested that people pay attention to weather conditions before heading out each day. Children, the elderly and individuals with pre-existing conditions are most at-risk.

"Our slogan is 'be aware, be informed and be prepared,'" he said. "It applies to a lot of things but especially under adverse conditions."

Individuals exposed to extreme heat are susceptible to sunburn, heat cramps, heat exhaustion and finally, heat stroke.

"On brutal days, it's best to stay indoors with air conditioning, avoid direct sunlight, eat small meals, slow down and take it easy," Piringer said.

He said in advance of a heat emergency, authorities release weather advisories and warnings to make the public aware of any potentially health-threatening conditions. There are a number of simple measures people can take.

"The easiest thing [to do] is to hydrate properly," Piringer said. "Drinking fluids a little at a time is important, particularly non-carbonated, non-alcoholic drinks, water and sports fuels. What you are today will help tomorrow."

Recreation centers, libraries, museums and senior citizen centers were used as cooling centers, Piringer said.

"We're very fortunate that in the District a number of visitors were along the National Mall in museums. These aren't cooling centers but we'll take credit for them," Piringer said with a laugh.

Both Sanders and Piringer said senior citizens are a major concern during heat emergencies and staffers from the Department of Aging, the Fire Department and other agencies knocked on doors and checked on the occupants to ensure that they were fine.

Piringer notes that call volume was up more than 25 percent during the heat emergency, with most calls being medical or heat-related. Some of the callers had serious medical problems but Piringer said he was not aware of any heat-related fatalities. Piringer and Sanders said the District is well-prepared for the next heat emergency.