D.C. Police Bring a Quick Halt to Carnival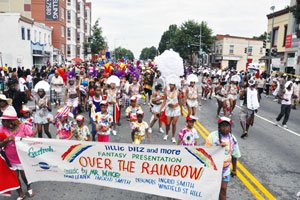 Annual Daylong Event Cut to Two Hours, Crowd Voices Displeasure
Hundreds of thousands of people jammed the streets of Georgia Avenue Saturday for the 19th annual D.C. Caribbean Carnival.
But scarcely two hours after the cultural potpourri started, D.C. police had trundled the last floats down the thoroughfare toward Banneker Field, and street sweepers and work crews began cleaning up debris as a phalanx of police on foot, horseback, motorcycles and in squad cars tried to coax reluctant bystanders out of the street.
Carnival lovers - all dressed up with nowhere to go - were left wanting more. For many, their anger was palpable.
"I'm upset. This makes no sense. The parade isn't even finished and they're cleaning the streets. That's crazy," said Guyanese native and longtime area resident Bridget Grant. "This is Caribbean American Heritage Month and this is what they do to us."
"I come here every year in this same space," said Grant, 47, a registered dental hygienist. "I enjoy the camaraderie with everyone, the music, everything. But they have turned off the music, the parade is too short and there's not enough time for us to enjoy our day. Last year, we were out here until 7 p.m. eating on the grass. People come from all over the country to enjoy this and this is the crap they get."
That's the common consensus.
Few had kind words for police officers they said were brusque, rude and threatening and who, for reasons still undetermined, seemed to be in a mad rush to wrap things up and get floats and revelers out of the street.
A number of individuals expressed concern about out-of-town visitors who had planned since the 2010 Carnival to attend this year's festivities, spent considerable amounts on travel, hotels and food yet ended up not getting their money's worth.
But for the few hours allocated for the parade, those who tramped, danced and "chipped" down Georgia Avenue in Northwest channeled the infectious enthusiasm Carnival engenders. Extra long tractor trailers carried DJs, revelers in colorful carnival attire and banks of loud speakers that shook bystanders to the core.
The DC Jab Jab Posse's theme this year was 'Red Madness.' Many of the throng following the truck wore red and black clothing. Several revelers appeared to have been dipped in red paint, while others topped off the look with red devil horns.
With calypso, soca and reggae blaring from the loudspeakers, the partiers shimmied from one side of the street to the other, jumped up and down, and waved flags, towels, t-shirts and other paraphernalia that carried their countries' colors.
National pride was on display as people danced alone, in pairs or in lines, body-to-body, grinding against each other, gyrating and holding flags in both hands above their heads as they rocked in unison to the beat. The live music and food were just a few of the many expressions of the vibrant Caribbean culture. Yet, the increasing international nature of the event was evidenced by the involvement of a number of other nationalities including Nigerians, Ghanaians and a contingent from Sierra Leone who participated in the parade.